Metricool discount code 2020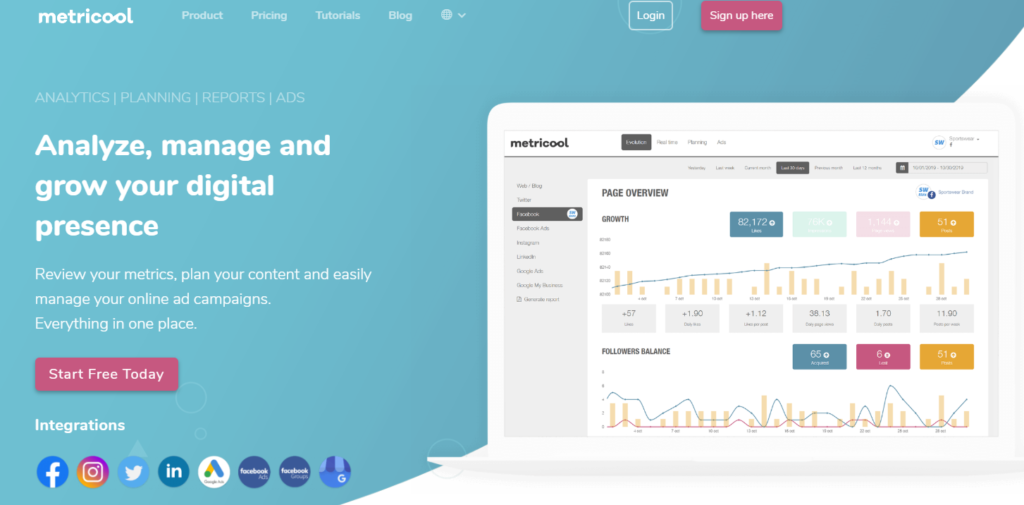 Metricool is a tool for web marketing professionals, and more specifically community managers. The tool has 5 features dedicated to :
the analysis of your social networks: the main feature of Metricool is analytics. You will be able to analyze precisely the metrics that matter for your online business. You will be able to analyze in one single place both your website traffic and your social network and online advertising data (Google Ads, Facebook Ads, Linkedin ads…). You will also be able to analyze the strategy of your competitors and monitor them. The history is unlimited: you will have more than 16 months of data, which is not the case with Google Analytics for example. Metricool allows the integration of Facebook, Instagram, Twitter, Linkedin… In order to centralize your data.
Post scheduler: Metricool allows you to schedule your posts on social networks. You will be able to plan your posts according to the peaks of traffic, whether it is on Instagram, Facebook, Twitter… The software facilitates multi-posting in order to publish the same content on all your social accounts.
Real time status.
Statistics reports: if you need to generate complete reports for your customers or your team, Metricool allows you to do it quickly. You can fully customize them and even schedule them for your customers to receive them on a regular basis.
Ad management: Metricool allows the integration of Facebook Ads and Google Ads. You can thus directly compare the results of your campaigns in order to know the profitability of each of them. You will be able to create and publish your campaigns directly from the tool.
Metricool discount code : how to use it ?
To use the metricool discount code, follow the process below:
Go to metricool.com.
Create a free account.
Click on "Become premium."
Click on the "do you have a discount code?" field.
Select the subscription offer and click on "upgrade".