Active campaign (review – 2020) – the simple, effective and cheap emailing tool ⚡
Active Campaign is an email marketing tool whose primary purpose was to enable business owners to keep in touch with their customers. Over time, the solution has evolved to adapt to the market. The software is today a cheap emailing solution, easy to use and offering useful options. We've tested for you Active campaign: here is our opinion (2019).
Email marketing
Main functionality of an autoresponder type tool! ActiveCampaign helps you send the right emails to the right people. To do this, the tool offers you a toolbox to create from A to Z your mail campaigns. You will be able to build your newsletters, create the associated emailing campaigns and send your emails en masse. The tool proposes an editor of emails in drag and drop allowing to build brick by brick the templates of your mails. Today, this feature is present in 99% of market emailing softwares.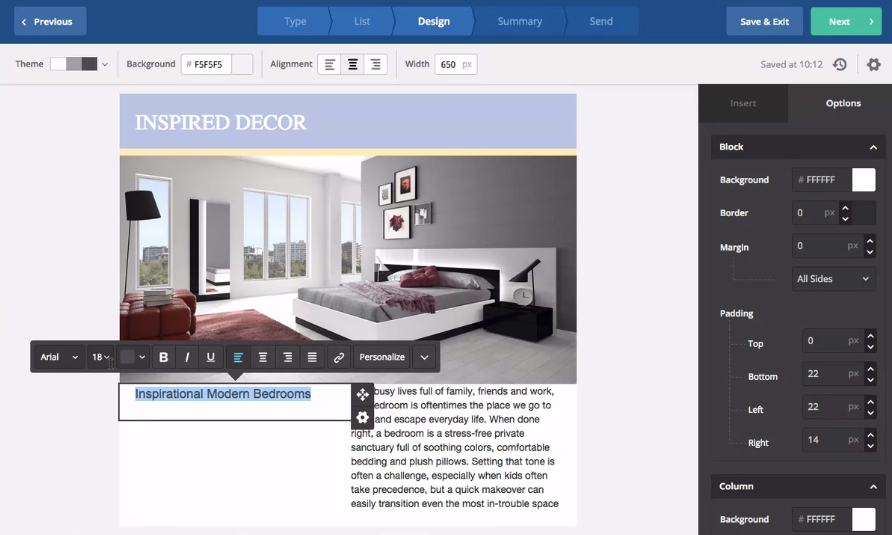 This allows you to quickly create different templates depending on the type of email you want: a newsletter, a promotional offer, a welcome mail, the announcement of a new product … You will be able to customize each one of them in a few moments.
Note that there are pre-existing templates for those who want to save time.
The tool will allow you to send different types of emails:
 
In one go : sending a one-off email, such as sending a newsletter
 
Depending on user behavior : based on an action. For example, buying a product on your e-commerce site, visiting a page, engagement, etc
 
Segmented emails : to send an email to the right kind of people. The tool offers unlimited segmentation possibilities.
 
Autorepondeur : When subscribing to a newsletter. Automatic sending of welcome emails, lead magnets, etc.
 
Email sales tunnels
 
Scheduled emails : birthday date, specific date, events …
On this side, the tool is more than complete: most scenarios in which you would need an emailing tool are covered. Whether you are an online business or a small blogger wanting to professionalize, these features will probably suit you. In addition, the tool allows you to create your forms (to collect the emails of your audience), but also to manage A / B tests. Essential if the emailing part of your business generates leads and therefore money. Create A / B tests will optimize each of your shipments, to know the type of emails (in terms of construction) that appeals the most.
Marketing automation
This part focuses mainly on the email sequences sent to your contacts, when they register, or when they perform an action on your site. Imagine, for example, that a user visits a product page on your site: an automatic watch for men. When this contact visits your page, an email can be sent automatically, one hour later. The goal ? Notify him as long as he is "interested" in what you offer, in order to convert him into a customer (and optimize your sales, in fine 🤑). A third scenario can be imagined, during which the user still does not buy the product: your sales team could receive a message indicating that this contact has not yet ordered.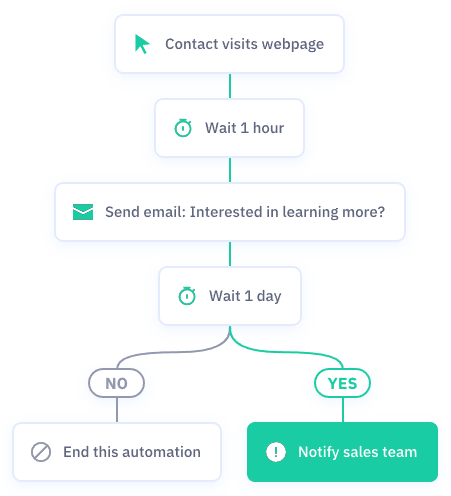 This kind of scenarios is easy to create with ActiveCampaign. A drag-and-drop interface makes it possible to add each of the actions and conditions. For example, you can add a condition such as a subscription to your newsletter, before adding an action as we have seen previously (with welcome emails. In addition, each action of the user, ActiveCampaign is responsible for adding a "score" of interest, as in a video game. For example, if the contact regularly opens your mails, he will be automatically tagged as "very interested". An interesting way to know very quickly who are really "fans" of what you propose.
CRM
Rather original for a tool normally dedicated to emailing, ActiveCampaign offers a CRM part (ie "Customer Relationship Management"). In summary, this kind of functionality can optimize the management of your customers, from canvassing, to sales, to customer support. Let's be honest right now, this feature is especially for startups and companies with a commercial team. This will probably not interest the blogger just wishing to send emails once a week to his mailing list. That said, the solution fulfills the main functions of what is expected of a CRM worthy of the name, ie:
lead management
communication with your leads
event scheduling
ActiveCampaign (CRM) offers a bonus mobile application (something that some dedicated CRM do not even!). We will not spread out voluntarily on this part. Indeed, this is not necessarily what interests you. If, however, you would like to know more about the best CRMs on the market, check our 
CRM software comparison
.
SMS Marketing / Messaging
ActiveCampaign is not limited to sending "classic" emails, you'll understand. It also allows you to manage your SMS marketing campaigns: sending SMS to promote your products.
Our opinion on ActiveCampaign
ActiveCampaign is an excellent emailing tool going to basics. It also allows to offer some new features for an emailing tool (such as live chat or CRM), and does it very well.
No functionality is to be removed. The tool is simple, quick to take in hand and offers many email templates, for the less patient.
The tool may be suitable for digital nomad with occasional emailing needs, as well as a startup that needs to interact regularly with its prospects. Side tariff, the tool is accessible since the rates start at $ 17/month. 
ActiveCampaign: offers and rates
ActiveCampaign offers 4 different rates :