(Review 2020) Hostpapa: our review of the company hosting 500,000 websites 💪
HostPapa
Starting from €2,95/month
Les points forts
Affordable shared hosting: from €2.95/month.
Installing a CMS (WordPress, Joomla) in one click, convenient.
Possibility to install two websites on a single hosting (for the basic formula).
Les points faibles
We would have liked to have plugins and a free theme provided with wordpress hosting.
HostPapa is a company offering complete web hosting solutions for several years now. The host offers various services such as classic web hosting, a hosting formula dedicated to WordPress, and hosting VPS and Reseller. Here is our 2018 review of the services offered by HostPapa.
Hostpapa: shared web hosting
The first hosting package offered by HostPapa is the classic shared web hosting. This allows you to benefit from a web hosting at a lower cost, perfect for people wishing to start creating websites for the first time. This starts from €2.95/month. You benefit from :
Two websites
Free domain name
100 GB disk space
Unlimited bandwidth
The big plus is to benefit from two websites. For example, imagine that you decide to create a website about Italian silk costumes. Out, 1 month later you realize that you prefer to start from scratch. You then create a site about your passion for woolen ties.
Do not panic! With an offer like this, you can install two websites on your hosting. Rather practical if we decide to change the idea of ​​website! The "Business Plus" package allows you to install an unlimited number of websites on the server. Interesting if you change your mind often!
It is also possible to benefit from installing a CMS (content management systems) in one click, such as WordPress or Joomla.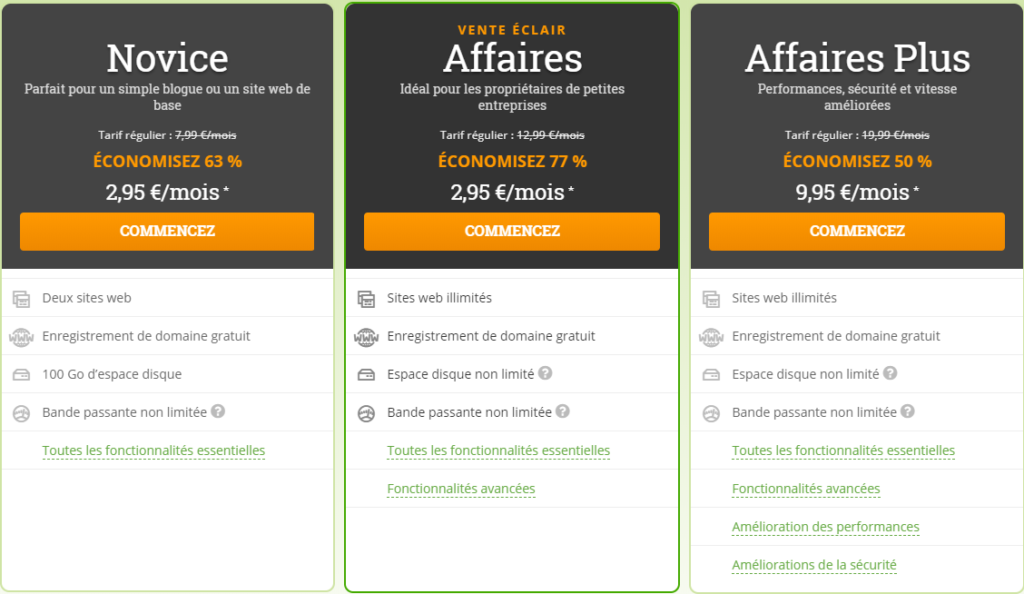 HostPapa guarantees an uptime of 99.9%. Clearly, this means that your (or your) websites will be available 99.9% of the time. After testing this host for a little over 3 months, we have indeed no error 5xx (server error) with our HostPapa hosting. In addition, bandwidth is unlimited . In theory, this means that no matter the traffic on your site (whether you have 10 or 5000 visitors a day) you will not have to pay extra. No unpleasant surprises and hidden fees. A good point, then. Other points, an automatic backup of your website is included , basic. If you change the code of your website and it explodes (yes, it happens to everyone, even the best) you can easily return to an earlier version in 2 3 clicks. Note that the Wildcard SSL certificate is only available in the Business Plus package. Pity ! It would have been interesting to provide it in the Novice subscription.
HostPapa's WordPress web hosting: a false good idea?
The second type of subscription offered by HostPapa is a web hosting dedicated to WordPress. Basically, it allows to have WordPress already installed on your website, in its latest version. Rather interesting if you have no technical knowledge and want to quickly launch your blog.
The host provides an improved content cache, so that the loading speed of your site is optimal. This is an interesting criterion taken into account by Google in your SEO. The Cloudflare service is also integrated. It's a broadcast network that allows you to cache your content around the world. In summary, it's pretty good for your SEO!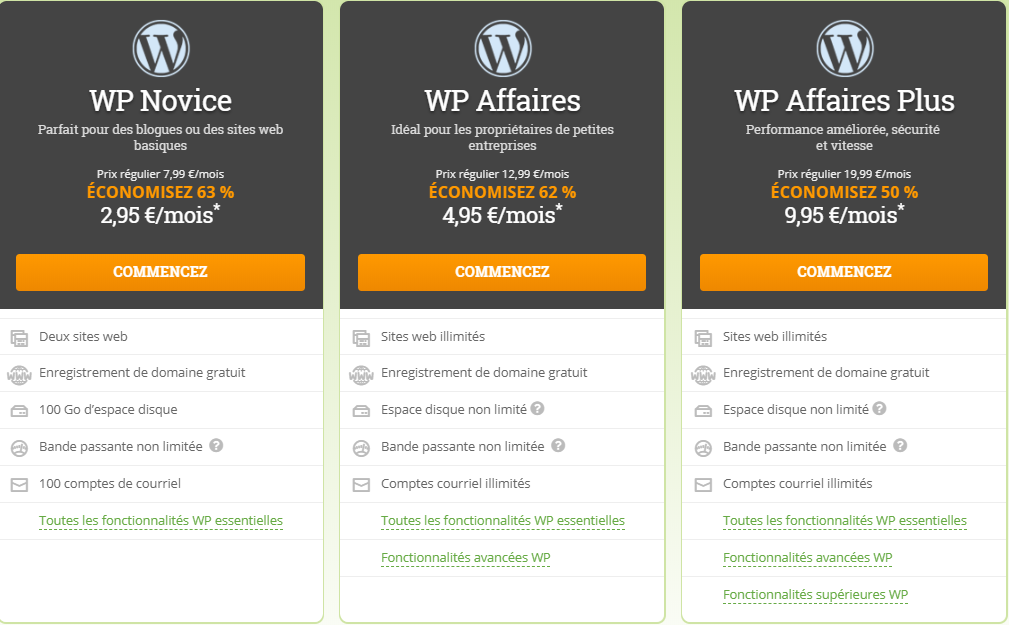 Besides that, WordPress hosting does not offer much in addition to shared web hosting (which allowed it to install any CMS in one click). We would have liked, for example, already installed premium plugins, such as a website builder, a premium theme offered, etc. This would have justified a little more interest for this type of wordpress-specific hosting.
HostPapa: VPS hosting for businesses
In addition to its main shared hosting services, HostPapa offers private servers, especially for businesses and websites that already generate revenue. Note that being hosted on a private server is also a referencing criterion. It is the perfect solution for hosting large web applications.
Decisive servers are equipped with at least 4-core processors (and up to 12 cores for Extreme packages). They also allow hosting an unlimited number of domains and websites. Rather interesting if you want for example create a vast network of Internet sites on the same accommodation and at lower cost.
What rates for a HostPapa web hosting?
For a standard web hosting at HostPapa, it will cost:
2,95€/month. Two websites. Shared hosting. Free domain name. 100 GB of disk space. Unlimited bandwidth.
2,95€/month.
Unlimited websites.
Shared hosting.
Free domain name.
Unlimited disk space.
Unlimited bandwidth.
SSL certificate + advanced features included.
9,95 €/month. Unlimited websites. Shared hosting. Free domain name. Unlimited disk space. Unlimited bandwidth. SSL certificate + advanced features included. Improved performance + security.
Our opinion on HostPapa: conclusion
HostPapa offers a complete offer in web hosting, whether you are a professional or an amateur. The starting offers in hosting mutualities are more than approachable and for this price there, two websites are included, the domain name is free and the installation of a CMS (Joomla or WordPress to quote only them) done in one click. Appreciable if it's your first accommodation! Hostpapa also offers private accommodation from € 19.95 for the most demanding.