Alfred (review 2020): The instagram bot made in France 😇
Alfred is an Instagram bot. His promise? Enable you to develop your audience in an organic way. How? Thanks in particular to its intelligent audience targeting functions and its task automation. We have tested the tool for you : here is our opinion about Alfred.

Alfred: features
Alfred offers the following features:
Programming of publications/stories
Automatic publication
Multi-accounts
Account statistics
Auto-follow/unfollow/likes/comment/dm/reshare
Programming your publications and stories
Alfred allows you to program your publications and stories. You upload your file from your PC, add the legend/first comment (full of #hashtags, classic), then choose the day and time of publication. An interesting feature to be able to manage your publication calendar in a strategic way. 🎯
Account statistics
Automating your actions is good. But analyzing them and understanding the results obtained is better! Alfred offers different statistics including:
commitment rates
average number of likes over the last 10 posts
average number of comments on the last 10 publications
All this is presented in the form of graphs allowing you to quickly visualize if your strategy is bearing fruit…. Or if it falls completely flat.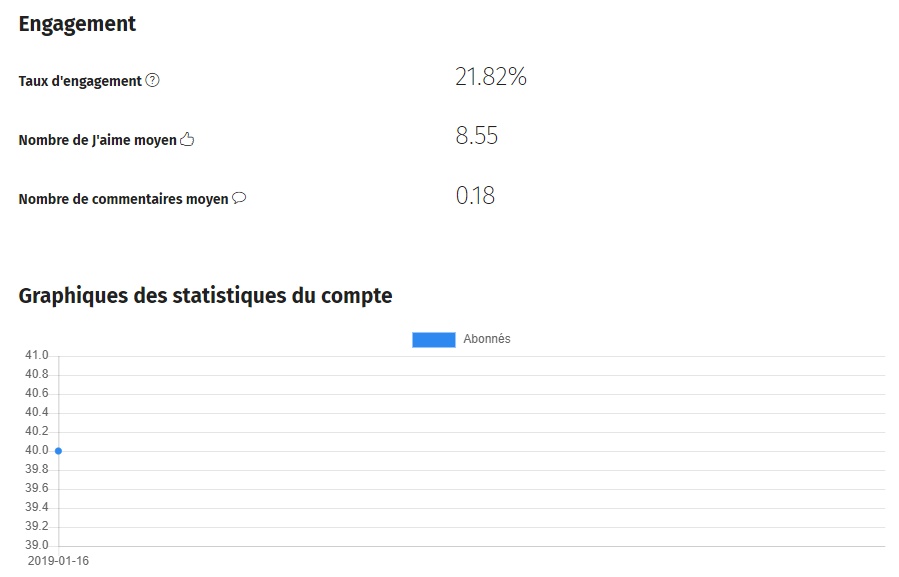 Alfred also proposes future estimates of the evolution of your audience, based on the growth of previous periods. Interesting to know if one day we will tick the million subscribers in order to become a professional influencer *wink*.
Automation
Our favorite part! Alfred will make your life easier. How ? Thanks in particular to its:
Automatization of follow/unfollow
Auto likes
Auto comment
Auto DM (for new subscribers)
Auto-repost
For the auto-like part, just use a filter by hashtag, place or person and define the likes speed (from very slow to very fast, or even random if you like the risk). The bot then takes care of liking the filtered photos. We can thus automatically enjoy the photos of the followers of a particular influence. Rather relevant if you are in the same niche (e. g. fitness, lifestyle, etc…)! For the automatic commentary part, it works exactly the same.
For auto-dms, we simply define the sending speed (as soon as someone follows us or a little later, so as not to arouse suspicion and get banned…).
For auto-follow and unfollow, the number of available parameters is greater. This allows you to choose:
the gender of the people to follow (male/female/both)
with a profile or not profile picture
ignor or not private or professional profiles
number of publications min/max of accounts
number of subscribers min/max
ignor profiles that have been unfollow
follow + like (or not) with number of adjustable likes
You can also choose to pause the actions at the chosen times. All these proposed options are useful. No transcendental features, of course, but the essential is there.
Multiaccounts
Alfred allows you to manage several accounts and switch from one to the other in one click. The 3 offers are as follows:
Management of 1 account: 9,90€/month
3 accounts: 14,90€/month
25 accounts: 24.90€/month
Alfred – Our opinion
Alfred is an excellent introduction for a community manager or growth hacker aiming to increase the audience of the accounts for which he is responsible. The tool is very simple, straightforward, straightforward and offers a minimalist interface that a 5-year-old child will know how to use. To get a more complete idea of the instagram bots on the market, don't hesitate to see our summary article on the best instagram bot.
Alfred : offers and rates
Alfred offers 3 different offers. Here is in detail what they propose :
9,90€/month – 1 account
Programming
Photos & Videos
Stories (Photos & Videos)
Albums (Photos & Videos)
Available space
14,90€/month – 3 accounts
Programming
Photos & Videos
Stories (Photos & Videos)
Albums (Photos & Videos)
Additional modules
Available space
24,90€/month – 25 accounts
Programming
Photos & Videos
Stories (Photos & Videos)
Albums (Photos & Videos)
Additional modules
Auto Follow
Auto Unfollow
Auto Like
Auto How
Auto DM
Auto Repost
Spintax supported
Available space