Learnybox – Review 2020 : the best all-in-one LMS ? 🎯
Learnybox
Starting from 74€/month
Les points forts
An extremely comprehensive offer for any web entrepreneur. A real toolbox!
The simplicity of the offer, complemented by functionalities mastered (reruns webinars, customer service management, affiliate programs ...).
Value for money.
Les points faibles
The creation of sites, anecdotal.
Learnybox is an LMS platform for web entrepreneurs. It allows you to create, sell and automate information products (training, conferences, webinars) online.
Using an LMS platform (for Learning Management System) allows you to:
provide online training
organize and manage your online courses, and analyze the results of your different courses and courses online
We tested for you Learnybox for more than a week and have deciphered the main advantages and disadvantages: here is our review (2018) !
More than a simple LMS platform, Learnybox is a real all-in-one tool to free you time, which is not luxury in the life of a webmarketeux! Learnybox presents features dedicated to:
your online courses
creating / managing your website/blog
emailing
creation and monitoring of your sales tunnels
creating / managing your online conferences
automating your webinars
managing and monitoring the sales of your products
creating affiliate programs
Customer Support Management
creating surveys and quizzes to learn more about your audience
creating popups and notifications
Let's take a closer look at each of these features, and how it can make life easier for your online business.
Learnybox & creating online training: for web entrepreneurs!
The first and most prominent feature of Learnybox is the creation of online training. More and more popular among web entrepreneurs (including bloggers but also youtubers), online training is a great way to monetize your knowledge. It allows to offer your audience a "premium" content in which you deliver all your knowledge, for a small amount of money … But we go astray! Learnybox will intervene on several levels. You will be able to:
 
create your training in a few clicks (after sending your video files)
 
decide to adopt an "automatic unblocking" mode of operation

(or not) span> of modules, when a lesson has been viewed by your student.

have a personalized training course (lessons categorized as "beginner / intermediate / advanced")
possibility to create quizzes (end of lessons for example), polls and gamification (in order to make learning a little more fun)
propose coaching in 1-1 (possibility for the user to reserve an hour so that you can answer his questions)
evaluate your students: whether they evaluate themselves or evaluate them. You can also track the individual progress of each student. A good way to cultivate a close human-to-human relationship and offer personalized follow-up!
Our advice on creating online courses:
We sincerely believe that all these possibilities alone justify investing in a Learnybox subscription. If you have a loyal community (which follows you for example on your blog or your social networks), set up a training via Learnybox may be wise. Without further ado, let's tackle now the second feature: creating sites/blogs.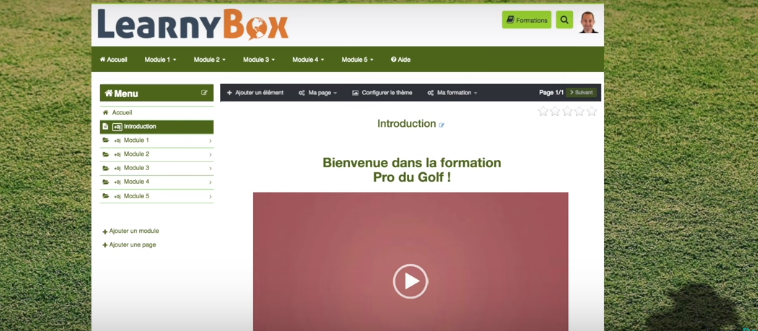 Learnybox & amp; creating sites: not just an LMS tool!
Yes, go read well. Learnybox also allows the creation of websites, as could a classic CMS like WordPress or Joomla. You will be able to create all your pages, choose a theme among those available, regularly publish news, customize menus, footers, but also widgets. Our advice on the site creation feature: However, we will not hide it, we have not necessarily been excited by the type of sites that can be created with Learnybox. The possibilities are limited, the templates are a little too sober for our taste and not very customizable, compared to a classic WordPress which has a band of infinite premium themes, a plethora of wigets, and overall a customization to infinity. It is hard to see who might be interested in this feature. Indeed, most people who are interested in Learnybox will already have an audience, so probably a site in their image already in place. Fortunately, this is not the main function of Learnybox. Let's look at his 3rd feature: emailing!
Learnybox and emailing: good or bad?
If you are already a blogger or e-commerce manager, you are already aware that setting up a newsletter subscription is essential. This allows you to create over time a real loyal community, or a customer (in the case of an ecommerce). It is also a very good way to communicate, simple and fast.
Learnybox thus includes an emailing function. Unlike a dedicated tool like Sendinblue or Getresponse, this is a facet. We are therefore entitled to wonder what emailing by Learnybox is worth? You can do several things:
send newsletters (obviously!)
create mail scenarios (mail registration – welcome/mail sequence of your blog articles "to read", promotion of your products, etc … Note that pre-written mail sequences already exist
statistics on your mail campaigns: opening rate, clicks, possibility to restart those who have not clicked, etc …
import contacts
registration forms (also called landing pages) to collect information from your audience (mail/name /optional phone number, etc.) </ li>
analysis of the score of your deliverability (and proposal by the improvement axis software).
Our opinion on emailing via Learnybox:
Surprisingly, the Learnybox emailing feature is quite correct. It fulfills most of the role of a good emailing tool: creation of forms, scenarios, customization of emails, post-shipment statistics and bonus analysis to improve your deliverability. It is also possible to easily create conditions on the actions and rules to register your prospects in the right sequences. A good point !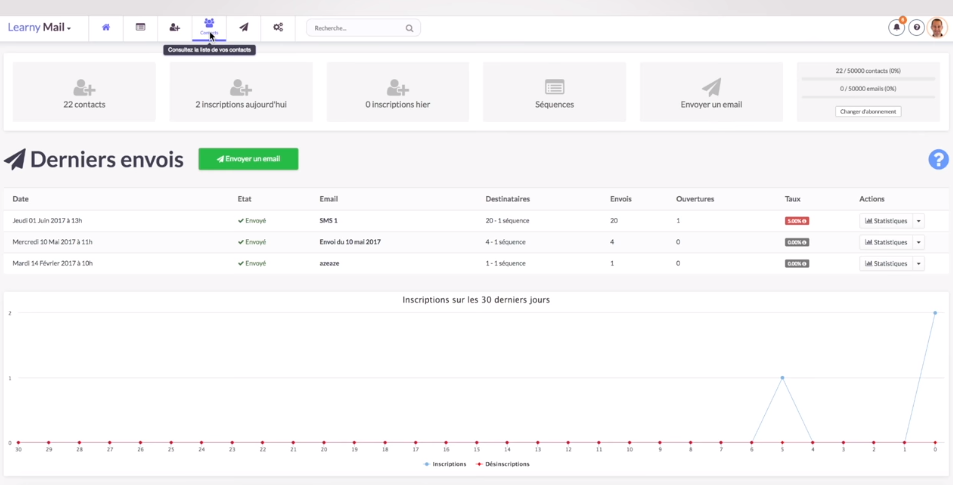 Learnybox and the creation of sales tunnels
Any self-respecting marketer has already heard at least the concept of sales tunnels. The idea is to be able to automate from A to Z the sale of your products through a succession of pages, or a webinar. The main strength of Learnybox is here to be able to automatically generate your tunnels, in a few clicks, whether to collect an email address, launch your products or a webinar. Thinking automation saves a lot of time
It is thus possible to visualize in an instant all the generated sales, to manage all the comments of your tunnels, and to display an overview of your tunnel. A good way to keep some clarity in the course of the user!
Statistics will be available on each stage of your tunnel: they will allow you to know exactly which page is weakly optimized in order to fix it, and to convert always more! Finally, Learnybox offers some themes and customizations for the pages of your tunnel. Rather interesting if one wishes to respect a graphic charter common to that of your site/brand!
Our advice on creating sales tunnels with Learnybox:
Creating sales tunnels with Learnybox is simple and unadorned. For a beginner web entrepreneur in the setting up of funnels, the tool will suit widely. For companies with higher needs and many features concerning emailing, they will be redirected to a dedicated solution such as Clickfunnels.
Learnybox & amp; creating webinars!
5th feature proposed by Learnybox: the creation of online conferences. Indeed, the webinar can be a great marketing tool where you can share many free tips with viewers. This may be a good way to promote your products, or your services (if you offer personalized coaching/consulting for example).
The tool offers interesting options. For starters, it's possible to post promotions during your webinars. Imagine that you have a program with a dozen videos and tons of practical tips for sale. You are organizing a webinar to offer free content to an audience interested in what you have to sell.
By promoting your products and offering temporary discounts during your webinars, you can convert interested prospects to the point of purchase.
It is possible to customize the webinars via themes already available, integrated with Learnybox. A dashboard exists and will allow you to manage the chat (essential to interact with your audience), launch polls, offer offers, etc. A series of statistics detailing the number of views, the average time of viewing, etc … is also available to analyze your broadcasts. All this will ultimately improve webinar webinar to offer interventions always more qualitative!
Learnybox also offers a new feature: the automation of webinars, also called "AutoWebinaires" (not very original, you are granted …). The principle, very simple, and to be able to offer rebroadcasts of your webinars. Thus, if a user is not available for the very first session of your conference, you can offer other dates, while having to turn the live once. The other sessions will be autowebinaires!
Sales management with Learnybox
Of course, sales are at the heart of any web-business. Learnybox will allow you to track your sales of digital products. The solution also proposes the creation of customizable forms and payment buttons (CTA). It should be noted that more than 15 payment providers are offered for use. It is also possible to manage subscriptions. An interesting feature if your site has a "premium" part that you want to book only for the most loyal readers of your site! The tool also proposes to manage for you the promotional codes and discount vouchers that you would like to set up. Lastly, as an entrepreneur, you will necessarily need accounting documents such as invoices and credit notes. Best of all, they are automatically generated by Learnybox. What more ?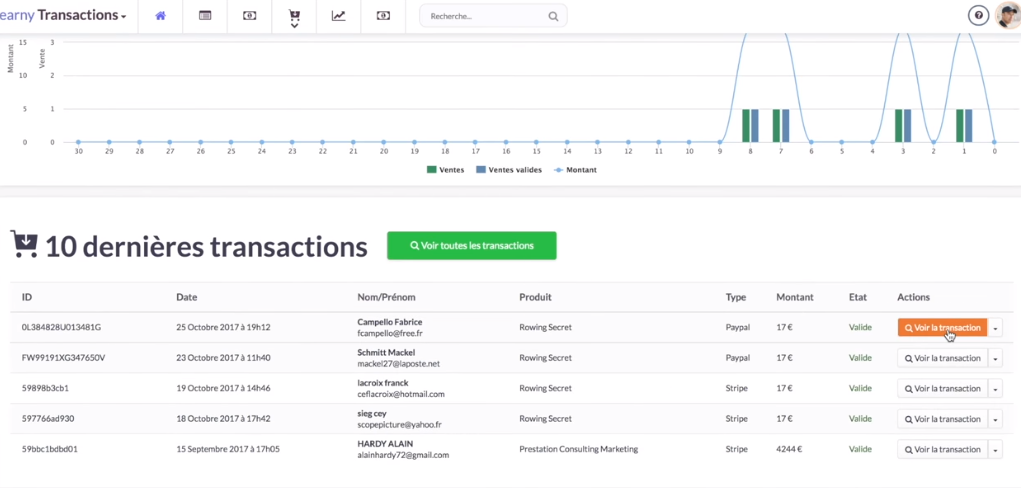 Creating Affiliate Programs: A Good Way to Increase Your Sales
You have just started your training and you are rather happy with the number of sales you have made … Nevertheless you would like to continue to sell regularly to have a recurring and passive income. Nothing better than setting up an affiliate program! It's about paying people who promote your products through their networks (social, websites) by offering them a commission on every sale they have generated. A very nice way to get people talking – it's a win-win exchange!
It will be possible to easily communicate with your affiliates and access different information related to the promotion of your products: the number of clicks they generated to your product pages, the number of sales, conversion rates, etc. … It is possible to offer different levels of commissions (for example to reward the best affiliates), or to propose motivating affiliate challenges. Finally, it will also be possible to set up promotional material (affiliate links, banners, etc …).
Customer Relationship Management with Learnbox
You can create a real support line with Learnybox. Your customers can simply tell you about their requests by contacting you directly in private. A good way to ensure a fast and effective follow-up so that your reputation and the quality of your service is rented everywhere! Good customer service will also help to ensure that you are spoken about by word of mouth … well!
Our opinion on Learnybox, in brief
Learnybox is a great all-in-one solution for web entrepreneurs and bloggers who want a handy tool to manage most aspects of their online business. The "primary" needs of webmarketing are covered: emailing, forms creation and landing pages, creation of sites (admittedly average!), Functionalities dedicated to the sale of infoproducts, etc … Almost everything is there.
For someone who does not want to bother taking 15 different tools, Learnybox is a good solution to the excellent value for money. If you want to test Learnybox free for 15 days, click here!
Learnybox: Rates and Offers
Learnybox offers 3 different offers :
Rate: 74 €/month
3 formations
Unlimited Tunnels
1 Webinar / month
100 Training Members
Including Learnymail: 500 contacts
 
+ 5,000 shipments / month
Coaching à la carte
Maximum support 72h
5GB storage
Price: € 107/month
5 formations
Unlimited Tunnels
4 Webinars / month
3500 Training Members
Including Learnymail: 1,000 contacts
+ 10 000 items / month
30 min of coaching offered
Maximum support 24h
20GB storage
Price: € 207/month
Unlimited formations
Unlimited Tunnels
Unlimited Webinars / month
Unlimited Training Members
Including Learnymail: 2500 contacts
+ 25 000 items / month
1h of coaching offered
Maximum support 12h
50GB storage