Best vpn 2020 – Which one to chose ?
It is 2019 and you want to surf the Internet safely and anonymously? There's nothing wrong with that. Your online activities are nobody's business, not even your ISP (Internet Service Provider!). It is therefore essential to have a good VPN. If you wish to make the most informed choice, we advise you to look a little lower. We have tested and listed here the best VPNs on the market. Follow the guide! 🚀
VPN Comparison – Complete list of the best tools in 2019
VPN
Strong points
Features
Go to website

Cyberghost

The cheapest VPN (2.5€/month)
No logs.
Secure servers owned by the company.
Price: 2,5€/month
Number of countries (servers) : 59 (3500)
Number of devices: 7
No logs : YES
Discover Cyberghost

ExpressVPN

The largest choice of locations (more than 94 countries available).
The emergency stop feature, very practical.
Many protocols available.
Price: $8.32/month
Number of countries (servers) : 94 (unknown)
Number of devices: 3
No logs : YES
Discover ExpressVPN

Veepn

10 simultaneous connections possible Good server coverage (2500 servers, 50 countries)
Price: $1,67/month
Number of countries (servers) : 50 (2500)
Number of devices: 10
No logs : YES
Discover Veepn

NordVPN

High safety level.
Abordable.
Particularly suitable for streaming.
Price: 2,99€/month
Number of countries (servers) : 61 (5300)
Number of devices: 6
No logs : YES
Discover NordVPN

VyprVPN

Low price.
Optimised against VPN blocking (Chameleon™).
VyprVPN applications for all your devices.
Price: 3.96€€/month
Number of countries (servers) : 70 (700)
Number of devices: 3-5
No logs : STAY
Discover VyprVPN

HideMyAss

The widest choice of locations for a VPN.
1 license allows you to use 5 devices.
Very fast.
Price: 3,99€/month
Number of countries (servers) : 190 (930)
Number of devices: 5
No logs : STAY
Discover HideMyAss

Tunnelbear

A very high level of safety.
Optimized to bypass censored sites.
The trial offer.
Price: 5$/month
Number of countries (servers) : 22 (unknown)
Number of devices: 5
No logs : YES
Discover Tunnelbear

PureVPN

Cheap.
Up to 7 devices simultaneously.
Price: 2,92€/month
Number of countries (servers) : 180 (2000)
Number of devices: 7
No logs : STAY
Discover PureVPN

Advantages :
The cheapest VPN (2.5€/month)
No logs.
Secure servers owned by the company.
Disadvantage:
More choice in available countries would have been appreciated.
Price: between 2.5€ and 12.99€/month
Killswitch: yes
Applications: Windows, macOS, iOS, Android, Chrome, Firefox, Amazon Fire Stick, Android TV, Routers, Linux
Protocols: OpenVPN, L2TP IPsec and PPTP
Cyberghost is proud to be at the top of this ranking of the best VPNs of 2019. Indeed, our test highlighted the different advantages (and the few disadvantages) it benefits from. Firstly, let's start with the most crispy info: Cyberghost is the cheapest VPN we have tested. Starting at €2.5/month (€30/year), the VPN to the little ghost costs a bite.
Of course, price is only one of many arguments, but see what happens next. Cyberghost is based on the "AES 256" encryption standard. A military grade standard used in the White House, for example, to protect confidential information. You can imagine that if the White House uses it, you can go with your eyes closed.
This will ensure that your data is secure. No matter who tries (in vain) to access your conversations, transactions and other credit card details, they will be faced with a real digital "wall".
Second, Second, CyberGhost is a VPN called "no logs". Literally translated, it means "without registry", so a VPN that does not record your online activities. Some VPNs say they are no logs and yet, when you read the small lines, it can happen that this policy is partial (as you may have noticed in our initial table in this article).
Cyberghost is in the category "good students" on this point. No log is recorded about your online activities. No problem therefore, you will not risk receiving an email from Hadopi one morning (don't laugh, this has happened to some people who have chosen another software
).
Third, Cyberghost plays it safe since it offers a Killswitch functionality? This allows you to ensure that you are protected, even during "unpredictable" moments, such as an unexpected disconnection from a wi-fi network, at random….
Finally, Cyberghost is compatible with many devices. Computers, smartphones, browsers, TV and other routers, an application is available for each of them.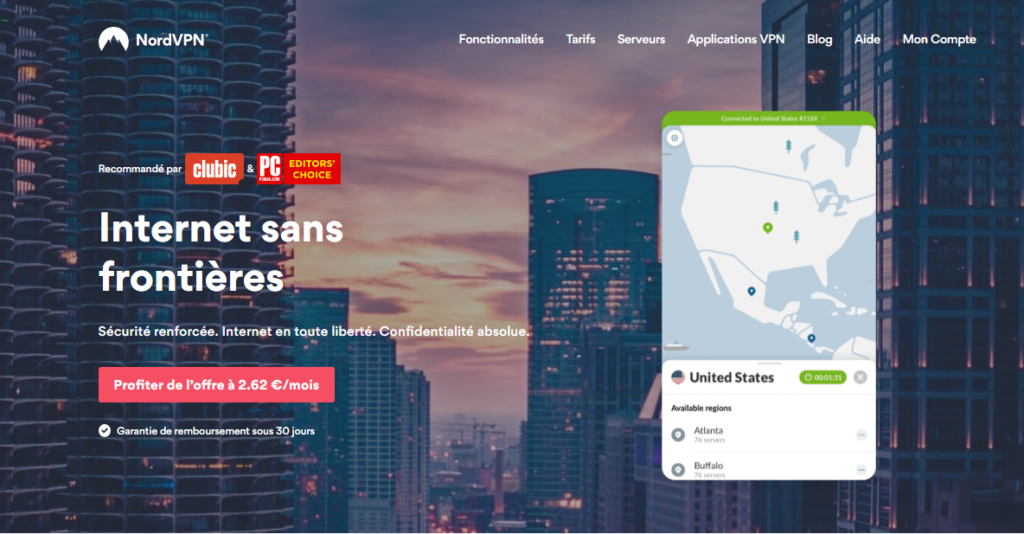 Advantages :
High safety level.
Abordable.
Particularly suitable for streaming.
Price: between 2.99€ and 11.95€/month
Killswitch: yes
Applications: Windows, macOS, iOS, Android, Chrome, Firefox, Amazon Fire Stick, Android TV, Routers, Linux
Available protocols: OpenVPN, IKEv2/IPsec, PPTP, L2TP/IPsec,
Second in our ranking of this year's best VPNs, NordVPN is an excellent tool that just escapes first place. If you are not afraid of English (this is the main defect), NordVPN will satisfy you.
First, on the security side, NordVPN offers the best. Indeed, it uses the AES 256 encryption standard, considered tamper-proof, to protect your data. Not content with this, the tool also offers a technology proudly called "Cybersec". It is used to block dangerous sites and malicious software before you have time to access them or be targeted.
Finally, NordVPN offers double encryption, a rare occurrence among VPNs. This "DoubleVPN" guarantees a high level of security. This will be particularly interesting if you are, for example, in a country where censorship is the rule, and where governments have taken steps to identify VPN users (e.g. China).
Another important point is that NordVPN is without a data registry, being based in Panama. This was validated in 2018, during an independent audit of PricewaterhouseCoopers, during which this policy was confirmed. So you're completely untraceable.
On the menu of various celebrations, we also find the presence of a Killswitch, a significant choice of servers (more than 5000 at the moment), P2P (torrenting) support, is optimized for streaming (to access content filtered by geography), and many applications. Please note that the above list of applications is not exhaustive, we invite you to consult the NordVPN website for the complete list.

Advantages :
Affordable.
Optimized for VPN blocking (Chameleon technology).
Fast.
Price: between 3.96€ and 5.42€/month
Killswitch: yes
Applications: Windows, macOS, iOS, Android, Chrome, Firefox, Amazon Fire Stick, Android TV, Routers, Linux
Available protocols: PPTP, L2TP/IPsec, OpenVPN, Chameleon
VyprVPN is defined as "the most reliable VPN in the world". As VPN marketing centres are used to self-advertising, we wanted to know if this was the case. Unlike the other neighbors above, let's start with the point that makes you angry: VyprVPN is a partial no-logs. Indeed, the software memorizes the IP address you used, the (de)connection times, and the bandwidth consumed.
Even if it is not something extremely serious, it is disappointing! Indeed, VyprVPN defines itself as a reliable VPN. We are already losing a little credit on this point. However, read on to understand why this is acceptable to some extent.
It should be noted that VyprVPN provides you with more than 700 servers spread over more than 700 countries, owned and managed by the company. The servers are hosted by the firm. This is rather rare: VyprVPN is therefore the only one with access to the little data they recover (that we saw above). A real guarantee of quality.
Another interesting point is that VyprVPN is specially optimized against the blocking of VPN, which is becoming more and more frequent all over the world. Interesting if you want to never have the (bad) surprise of dealing with a VPN that doesn't work…
Finally, VyprVPN is FAST. An excellent point. During our tests in extreme conditions (including a test on speedtest.net), we were able to observe a download speed of up to 72 Mbps, and an upload speed of up to 38 Mbps (compared to 100 Mbps and 50 Mbps respectively without VPN). VyprVPN is also relatively economical as it is available at around 4€/month. The price of a café en terrasse in Paris, in short. From our point of view, it is worth the cost!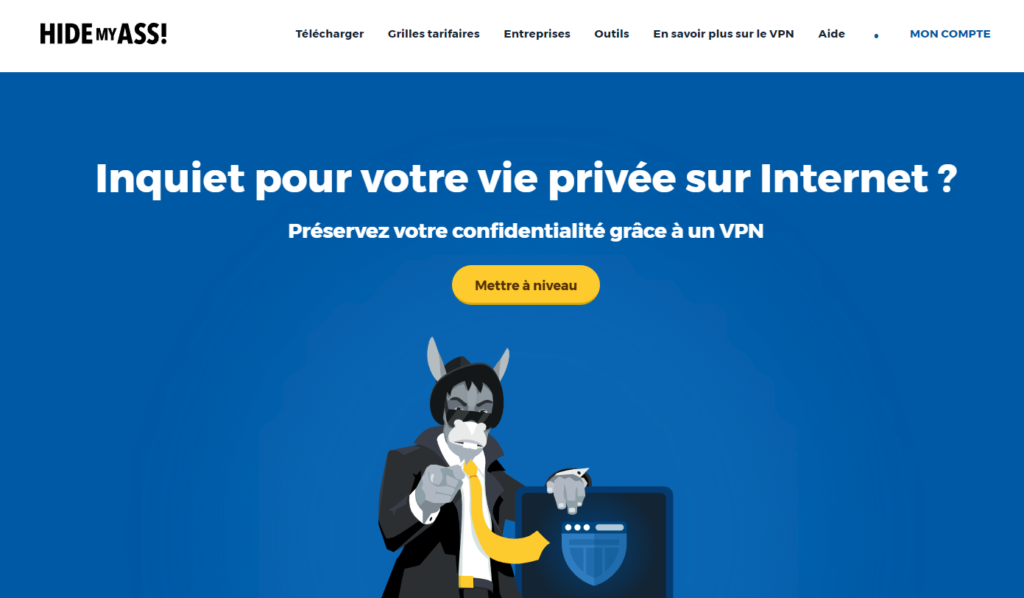 Advantages :
The widest choice of countries available for a VPN (190 countries).
Very fast.
1 license allows to use 5 devices.
Disadvantage:
Many protocols available would have been a good thing.
Partial No-logs.
Price: between €3.99 and €10.99/month
Killswitch: yes
Applications: See complete list
Available protocols: OpenVPN
HideMyAss is a famous VPN whose mascot is a donkey whose main mission is to save your ass. It's written in the title! Today, this VPN has more than 400 million (!) users worldwide.
Hide My Ass uses the AES 256 encryption standard that we no longer present. Beyond that, we will not present each of the available features, they are similar to what we find elsewhere. Streaming your favorite content, bypassing censorship, many available countries (more than 190!), many available applications and 5 devices that can be used simultaneously.
Its main strength is its speed. We tested the speed of our normal connection (without VPN) and armed with a VPN. By using a VPN, your connection speed will necessarily be negatively impacted. A fast VPN is therefore a VPN that slows down your connection only slightly. Here are the data we obtained during our test (speedtest.net):
| Metric | Sans VPN (connexion normale) | Avec VPN (HideMyAss) |
| --- | --- | --- |
| PING | 12 ms | 39 ms |
| DOWNLOAD | 94 Mbps | 61 Mbps |
| UPLOAD | 52 Mbps | 48 Mbps |
As you can see, the results are quite good. The upload/download speeds are only slightly impacted, which is an excellent point. A VPN that slows down your connection significantly will provide a poor user experience. This is not the case here, HideMyAss is one of the good students on the server connection speed side!
The second major argument as seen above is the incredible number of countries available for connection. More than 190 countries and 280 locations are available…. HMA (for close friends) is therefore present on each of the competitors en masse. You have a lot of choice when you log in to the VPN and want to select a server that is not very used.
Finally, in terms of use, the application provided is very simple. Even a 4-year-old child will be able to log in to this VPN (even if he won't need it at his age, we hope!).
On the side of annoying details, HideMyAss collects some information about you (username, login dates, amount of bandwidth used, original and used IP addresses). Be careful not to think you are "totally" invisible, a case in 2011 caused an outcry: a hacker (Cody Kretsinger) used HideMyAss for his activities. The company was able to pass on its information to the FBI and today he is sleeping in prison. That's why we prefer to warn you when a VPN is partially nologs…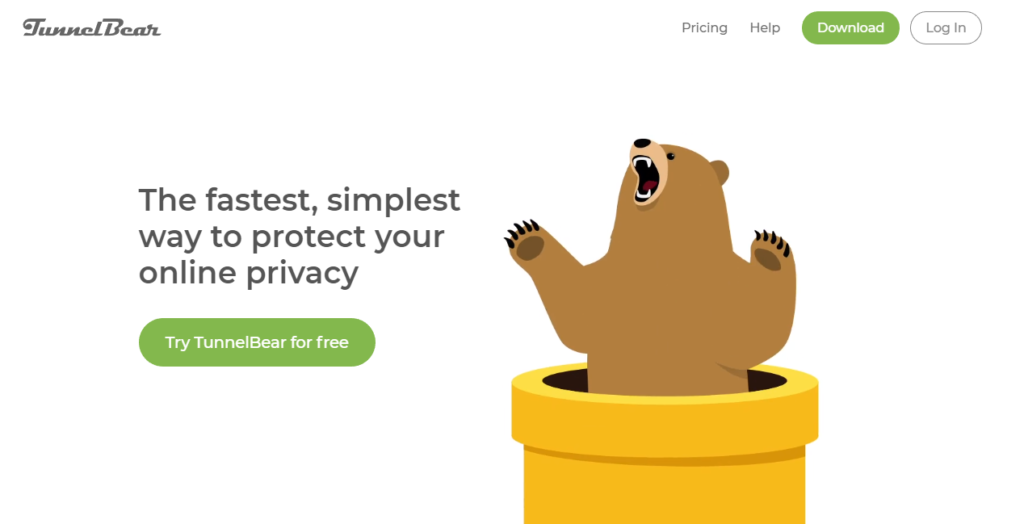 Advantages :
A very high level of security.
Optimised to bypass censored sites.
The free trial offer.
Disadvantage:
22 countries available only.
Tunnelbear is getting the claws out of our ranking! Tunnelbear is one of the few VPNs in our ranking whose effectiveness you can test for free (by clicking here). A good point if you want to familiarize yourself with the tool, and why not offer it to yourself if you are satisfied with the trial period.
In addition, Tunnelbear offers a Killswitch, a feature that is so interesting and offers a level of safety in all circumstances. This function is called "VigilantBear" here, it will be your personal digital bodyguard, in case you are temporarily out of reach of your Internet source, or if you connect to a new wi-fi network, for example.
On the other hand, another feature, "Auto Tunnel", allows you to quickly benefit from the bear's assets, see instead: Auto Tunnel allows you to optimize the speed of your connection for you…. How, you might say? It is very simple, my good Michel (we will start from the principle that you who read your name is Michel). It allows you to find the most interesting VPN tunnel for you at the time T, by choosing the one with the lowest ping, and with the best theoretical upload/download speed….
Where the problem lies is that Tunnelbear offers "only" 22 countries in all and for all. This is relatively low when compared to what its main competitors offer (190 for HideMyAss far ahead, 180 for PureVPN, etc…). Thus, the functionality of Auto Tunnel, although an advantage on paper, is handicapped by the lack of choice in the proposed panel of countries. That's a shame!
Because next to that, Tunnelbear is excellent in terms of the security it offers, and its optimization for bypassing censored sites. All this prevents Tunnelbear from ranking higher in our ranking. Too bad, the mascot was cute! 
Finally, Tunnelbear is 100% no-logs. You can therefore let yourself be tempted without fear!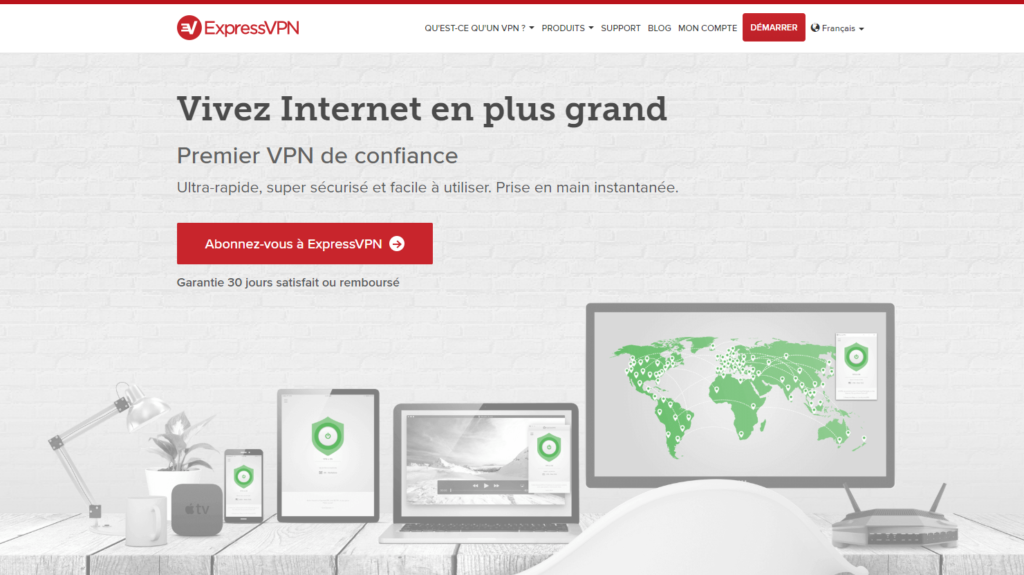 Price: between $6.67 and $12.95/month
Killswitch: yes
Applications: See complete list
Protocols available : OpenVPN, L2TP/IPsec, PPTP
ExpressVPN is often recommended in many comparisons. However, today we have ranked it in a position that is not the best, admit it. What could have dragged his score down? The answer is simple: its price! ExpressVPN is more expensive than most of its competitors (the starting offer starts at $6.67/month, more than twice the lowest VPN price). In his test, he obtained a score of 7.3/10 for his price.
However, ExpressVPN is still a very good VPN. The tool is guaranteed no-logs (we checked their jurisdiction, you can go there!), a good argument if you want to be totally anonymous.
On the protocol side, ExpressVPN offers OpenVPN, L2TP and PPTP protocols. You can switch from one to the other via the application, according to your current needs (the device used, the desired level of security, the desired speed…).
Among the various celebrations, it should be noted that ExpressVPN will also be essential if you want to unlock access to your favorite Netflix catalogues.
Finally, three other arguments in favour of ExpressVPN: its wide range of locations (94 countries available), an emergency stop feature (another name for the Killswitch) and an integrated security test to choose the fastest server available.
If you overlook its slightly more "first" price compared to competitors, ExpressVPN is a solid tool that will meet your needs.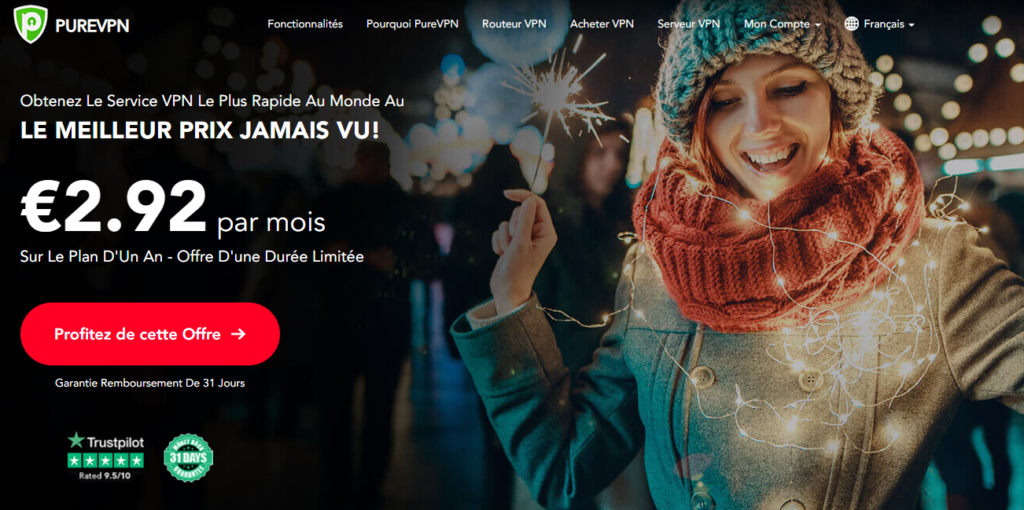 PureVPN is the "red lantern" of our ranking, on the verge of relegation for the next season? Maybe that's the case. Read a little bit about why it is ranked last.
Let's start with its main advantage: PureVPN is extremely inexpensive. Starting at €2.92/month, PureVPN is one of the cheapest VPNs we have tested on our website. If you don't have any big needs and you just want a cheap service to get around bottlenecks, go ahead.
However, if you want to remain anonymous on the Internet, PureVPN may not be the tool we would advise you to use. Indeed, despite everything you can read on the site (about the importance of anonymity at PureVPN and their policy of no logs), PureVPN keeps and collects information about you: for a tool that boasts of being no-logs, it is a disappointment on that side.
On top of that (ironically, to be precise), PureVPN boasts of providing and allowing an ultra-fast connection speed. This is also an exaggeration because during our tests in extreme conditions, PureVPN proved to be one of the slowest VPNs among all those we tested! Again, a disappointment for the tool. So in short, the service is not so anonymous, and it is also slow.
We will still note the large number of countries available (more than 140) which still makes it an advantage, and perhaps a selling point for some users. The number of protocols available is also provided since there are several possibilities: OpenVPN, L2TP/IPSed, PPTP, SSTP, IKEv2 and many others.
In light of these elements, you are free to subscribe or not to PureVPN. However, we do not recommend it!
VPN comparison: our test criteria
Here are the criteria used during the tests of the different VPNs present on this page. Each of these criteria is taken into account and the overall score reflects compliance with these criteria.
The number of available locations (countries and servers)
This is the first criterion, and often one of the main arguments put forward by the different VPN providers. Offering a large number of countries to which you can connect to a VPN has several advantages. A large panel will increase your chances of finding a server geographically close to you, which will allow you to obtain an ideal connection speed.
In addition, if you want to bypass geographical filters to access your favorite content, having a lot of choice will increase your chances of getting there.
We keep in mind that the right price is often the cheapest! That's why we believe that price is a key factor in choosing your VPN.
You may want to use a VPN for your smartphone, tablet or computer, or even routers. It is therefore essential to choose a tool that offers the right application for you. Fortunately, most VPNs on the market offer a large number of applications.
It is essential to have a fast and efficient tool. This is crucial! If you use a VPN that greatly reduces your connection speed, it will harm your experience (especially if you want to view quality streaming, for example). This is why we have tried to test the speed of each of the VPNs present in this comparison, and to highlight the fastest ones.
Your interest in a VPN can be motivated by several reasons: wanting to be anonymous, bypassing censorship, accessing your favorite content or simply being safe when connecting to a public wi-fi, for example. For this reason, we only wanted to highlight VPN tools that have proven a high level of security. To do this, we searched the web for various user testimonials, in addition to relying on our personal experience with the tools.
Responsiveness of customer service
There is nothing worse than slow customer service, which answers your questions, if at all! Because we believe that the quality of a tool does not stop with its simple use, but also with after-sales service!
Various features may include double encryption, Auto Tunnel, etc. These are secondary functionalities that complement the main service provided. We believe that they provide added value and can give the advantage to a particular VPN tool, with equal characteristics.
The overall quality of the tool is our opinion based on all the characteristics of the tool, coupled with our personal tests, as well as the consultation of customer experiences through the web. We want to cover each tool in a comprehensive way so that every detail, quality and disadvantage is highlighted.
Presence of logs (no-logs/ partial logs)
The majority of VPNs on the market emphasize being totally no-logs. However, this is not always the case when you read the short lines. Thus, it has happened several times around the world where VPN users, believing themselves to be protected, have been able to perform illegal acts. What they didn't know was that the VPNs they were using weren't totally no-logs!
The justice of the countries in which their misdeeds were committed was then seized and the companies behind the NVPs were contacted with orders to collaborate to provide the necessary information. Convictions followed!
This is why we specify in this article whether the policy of each NPV is really "no-logs" or whether it is "partial no-logs". See the comparative table at the top of the article for the necessary information!
Different protocols (encryption methods) are present for most VPNs. They allow you to choose between security, connection speed, compatibility with your device and can be adapted to different problems.
Frequently Asked Questions (FAQ) VPN
VPN : for which uses?
A VPN is for those who:
want to surf the Internet anonymously
access censored content inaccessible due to a geographical filter
benefit from security when using public wi-fi
Use a VPN: is it legal?
In 98% of the countries, yes. However, there are some countries such as:
United Arab Emirates
Iran
China
Russia
Turkey
In which you can only use authorized VPNs. As we are not specialists in the subject, we invite you to find out more about it for yourself.
VPN or Proxy? What differences?
A proxy serves as a bridge between you and the Internet. Traffic passing through the proxy server will appear with its IP address, not yours. You are thus masked. However, no security is required with a proxy, anyone can intercept your unencrypted data.
The VPN is responsible for encrypting your data (usually via AES 256) and ensuring your security. A tunnel is built between your computer and the place you want to access on the web.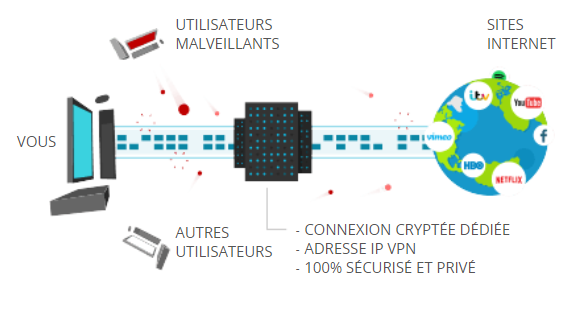 Free VPN: good idea ?
No.Free VPNs are free for a good reason: they collect your data and then sell it to other companies. In addition, connection speeds are terrible. We do not recommend using a free VPN for your own good. You can use Tunnelbear for free , among those we have tested.
Can a VPN be blocked?
YES. VPN blocking is becoming more and more frequent, especially by Netflix, which is increasingly able to detect the use of VPN. Some VPNs are optimized against blocking, such as VyprVPN.
How to choose the right location for your VPN?
Choose the geographical location closest to your location in order to benefit from optimal connection speed. Also choose a low-traffic server to have an excellent user experience.