Combin for Instagram – review 2020 : a cheap alternative to Instagress 🚀
To gain popularity on Instagram, there are two methods. The first is to manage his account manually, to follow and unfollow random accounts, hoping that our subscriber count go up. Do not laugh, we've all gone through this frustrating phase! The second way is to use a smart tool that will do these boring tasks for us. Combin is just one of these tools to make your life easier on Instragam.
Some tools dedicated to social networks are real Swiss knives: they make it possible to automate linkedin, instagram, Pinterest, etc. Combin specialize in automating tasks for Instagram. We can therefore assume that the tool must be effective. We tested for you Combin during a week: here is our 2018 review !
Combin for Instagram: What Features?
Combin is a smart tool designed to blow up your Instagram counter (in terms of subscribers, not ban!). Here is what is proposed by the automation solution:
a search function posts: by hashtag and places (geolocation of the post)
search by account: to be able to easily find the subscribers and commentators of your competitors, in order to join them to your community
follow / unfollow system (the base!)
communication facilitated: programming of comments and automatic likes under the posts
filters/preview feature: to easily find who to follow and interact to find the most qualified prospects
easy multi-account management system, one-click switch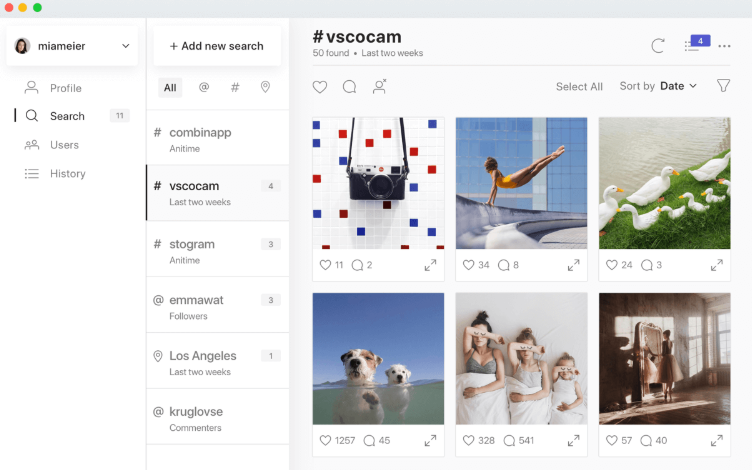 Advanced post search with Combin
On Instagram, to follow "smart", it is necessary to find the right accounts to follow. For example, imagine that you have an account of a watch brand. You have just created your brand and are looking for visibility on Instagram. The goal will be to find accounts interested in what you offer.
In our example, you can for example use hashtags such as: "#wristwatch", "#watchesofinstagram", "#watchoftheday", "#watchporn", etc. The idea is to find the popular hashtags of your topic in order to find qualified prospects, interested in what you propose on your account. With Combin, this search for posts by tag is possible, you can then send the robot Combin liker, comment or follow the people already interested in this type of posts.
Combin : search by account
Another way to find accounts interested in what you offer, is to go directly to find the accounts that follow your competitors. The principle is very simple, you define in Combin one or more accounts to be defined as target, and Combin will be responsible for going to like their accounts, or to comment their photos.
To use the example we saw earlier, you can set up an instagram account dedicated to beautiful watches with more than 100k subscribers, and tell Combin to go follow their count and/or comment on their posts.
Disclaimer: obviously, it will be necessary to be careful not to spammer accounts that have nothing to do with your theme. If you are going to track and comment on accounts that have nothing to do with your domain, you may just go for an n-th spammer. The idea is to appear natural in order to go under radar. Your community will be more qualitative!
Combin and follow / unfollow: well or not?
The most well known feature of all Instagram robots is the follow/unfollow. Indeed, this well known technique (which already existed on Twitter) allows accounts starting from scratch to be known. Despite its selfish aspect, this is the most interesting technique to gain visibility quickly and for free.
Combin offers to take care of you automatically follow whatever you want, based on hashtags, locations or accounts (as seen above). The software also lets you see who did not follow you back. It is possible to track bulk accounts and also unfollow them en masse.
It is obviously possible to choose the number of accounts to follow and / or comment per day. To go under the radars, one will avoid to follow more than xxx accounts per day. Everyone will define their limit! Personally, we advise you to stay below 250 likes / comments and follow by day. We will also avoid posting at hours between 0:00 and 8:00 in the morning. It will look suspicious!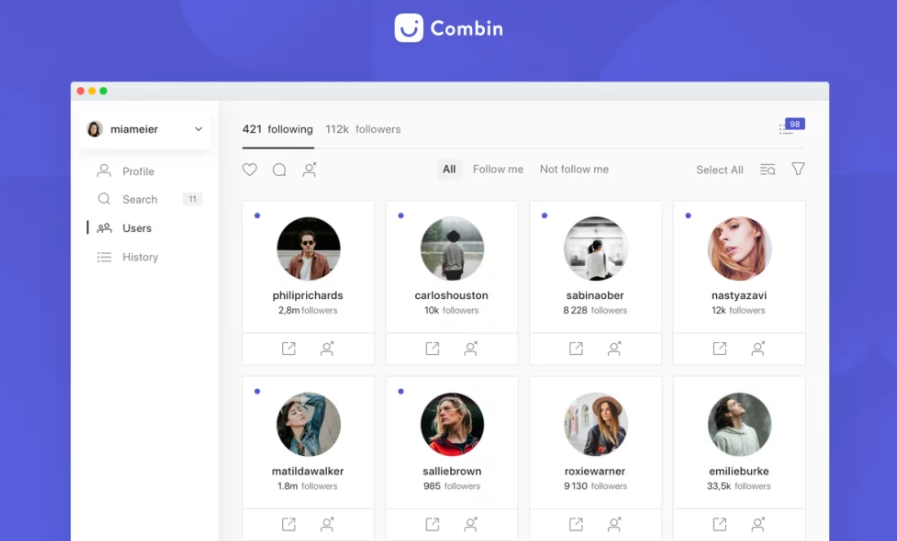 Facilitated communication with Combin
Combin also offers the opportunity to discuss directly with potential followers, commenting for example their post, add them a like but also comments. It is obviously possible to schedule each of the posts/likes and comments so that your activity is not suspicious. The tool also allows you to warn you so as not to exceed the limits.
Filters : previews with Combin
It is possible to use the advanced filter feature to choose who to follow and which posts to like. The feature allows you to highlight the results by relevance, see the most followed accounts, the most popular posts, etc.
Easy multi-accounts
Best of all, Combin allows you to manage multiple accounts. If you are hungry for automation and you have multiple accounts that you would like to take to the stars, this option is perfect. The ability to switch between accounts in one click is also significant.
Combin: rates and offers
Combin offers 3 types of subscriptions including a free offer
that you can test here
:
1 Instagram account management
50 search results for posts
50 search results for users
250 daily action limits
1 Instagram account management
500 Instant Search Results for Messages
500 Instant Search Results for Users
Search results
Unlimited actions in the application
Auto-Tasks (coming soon)
DM and comment feed (coming soon)
5 managing Instagram accounts
500 Instant Search Results for Messages
500 Instant Search Results for Users
Search results
Unlimited actions in the application
Auto-Tasks (coming soon)
DM and comment feed (coming soon)
Statistics (coming soon)