AMZ Tracker review (2020) : offensive and defensive strategy for your Amazon business! ⚔️
AMZ Tracker
Starting from $50/month
Les points forts
A 360° complete offer (from keyword research to sales tracking)
Onpage analysis of the product sheets, point by point.
The opportunity to launch its products with Vipon.com.
Les points faibles
A bit expensive compared to the competition.
Aimed at Amazon sellers, AMZ Tracker is a toolbox with the promise of propelling your products to the top of Amazon search pages … and staying there for a long time! A good way to gain visibility and get sales on a regular basis.
On paper, this is necessarily interesting.
Who does not dream of dominating his Amazon niche?
To verify this, we decided to test for you AMZ Tracker, the tool supposed to allow you to attack with virulence and defend you with strength on the battlefield that is Amazon. Here is our opinion!
Introducing AMZ Tracker
AMZ Tracker is defined as a solution dedicated to Amazon FBA to define a 360 ° strategy , ie dedicated to all stages of creating your business, search for keywords, potential niches, tracking your results, onpage analyzes of your product sheets, etc.
The goal is to have a self-sufficient toolbox that allows you to meet all your needs.
3 steps are highlighted by AMZ Tracker:
offensive strategy ("Offensive Strategy")
defensive strategy
the recognition strategy ("Recon Strategy")
AMZ Tracker: the offensive strategy or how to propel your keywords
The first part of the 360 ° solution proposed by AMZ Tracker is the offensive strategy. This consists of multiple tools .
The first is a keyword tracking tool, allowing you to see at a glance which positions you are in. You can also track the keywords of your competitors to keep an eye on their strategy and inspire you. Indispensable also to react quickly in case of loss of positions!
The second tool in the Offense part is the conversion rate for your products . For example, imagine that you have a product that converts weakly. It will be a product that receives a lot of visits but has a proportionately low sales. This is not normal! This feature offered by AMZ Tracker allows you to analyze onpage optimization of your products in order to quickly find what needs to be corrected.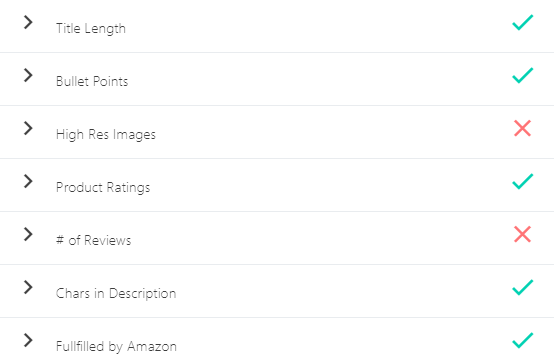 Is this a problem of product title too long, or on the contrary too short? Does your ad contain bullets points that show the characteristics of your product? Are the images in high resolution? Are there any opinions left by your customers? Is the number of opinions sufficient to inspire confidence? Are there enough words in the description of your product? So many points analyzed in an instant by AMZ Tracker. A good way to have peace of mind when the onpage of your product is "Amazon friendly"!
AMZ Tracker: the defensive strategy and its features
The first of the features offered is an alert that you can receive when a customer leaves a rating of less than 5 stars. Indeed, the average rating can strongly influence your Amazon business. An average rating above 4.5 stars will strongly affect your clickthrough rate , and the conversion rate of your products. By being alerted as soon as a bad rating is left, you can minimize the drop in your average. Let's take a simple example . Imagine that a user leaves a three-star rating on the connected watch you sell. He considers that it does not correspond to the description of the product sheet. You will be able to contact him directly and make sure to personally collect his negative reviews to improve your product for future buyers.
The second feature offered by is a second alert, triggering when another Amazon seller tries to collect data about your products , such as the number of sales, descriptions, titles of your products, etc.
AMZ Tracker: the recognition strategy, finding the niche, products and competitors of your business
Before starting a business on Amazon, it is essential to know if there is a demand (or not) for your product. This is the point of the preliminary phase of niche research.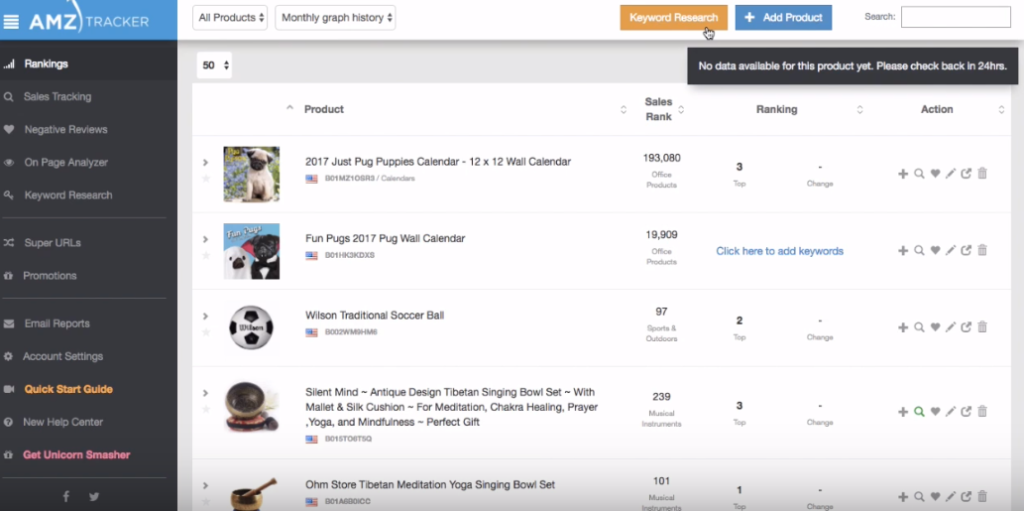 The keyword research tool will reveal the most relevant keywords for your niche, by evaluating the monthly search volume for that keyword, the average price of the products sold, and the competition. A quick and easy way to evaluate the potential of a market.
AMZ Tracker also offers "Deepwords" , a tool for discovering long tail keywords. These are keywords with low search volume but high conversion rate. A good opportunity for sellers wishing to avoid the competition of the biggest keywords.
For example , a keyword such as "watch" is considered a short trot. The volume of research is high but it converts little. Conversely, if you focus on a keyword such as "men's dive watch", it will be less sought after but will convert more, because the query will be very accurate.
AMZ Tracker: for which marketplaces?
AMZ Tracker is available for 11 marketplaces:
the United States (USA)
Canada (CA)
Germany (DE)
Japan (JP)
the United Kingdom (UK)
China (CN)
India (IN)
Spain (ES)
Brazil (BR)
France (FR)
Italy (IT)
AMZ Tracker: how much does it cost?
Amazon Tracker offers 4 types of subscriptions:
Our opinion on AMZ Tracker
AMZ Tracker is a good toolbox for apprenticeship sellers on Amazon, wishing to equip with most of the tools to have. From keyword research to tracking your sales, positions, competitor analysis and customer relationship, this tool allows you to manage your Amazon FBA 360 ° strategy. What to start smoothly in the world of e-commerce.