Hubspot (Review 2020): CRM software for successful growth ⭐
Hubspot (formerly known as Sidekick) is a complete marketing platform consisting of 3 parts: Hubspot Sales, Marketing and Services. The ambition of this tool is to offer all the features of a CRM in a free software. We passed the software on the test bench. Here's our review of Hubspot!
Hubspot Marketing: The Marketing Features of the Software
The Marketing part of Hubspot allows you to use various features to increase your website traffic, increase your conversion rate and establish your ROI. You will have the following possibilities:
Blog creation (Hubspot is a full-fledged CMS)
responsive landing pages creation
autoresponder (sending mass emails, custom mail sequences, a / b tests, campaign statistics)
managing your contacts (with the interaction history).
Analytics (detailed information about your sales tunnel)
Social networks: tracking mentions / conversations with your prospects
SEO: semantic audits (find keyword ideas for your business, optimize the SEO of your pages)
CTA: creating buttons
Ads: track ROI / statistics on your Facebook / Adwords campaigns.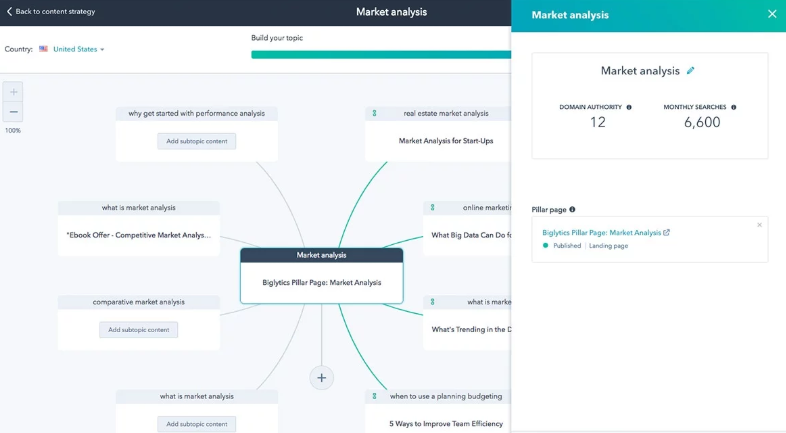 This part will mainly target your sales teams, having the mission to solicit new prospects, make appointments to present their services and products. This part is very interesting because it automates low added value tasks (email tracking, email customization) so that your teams can save time and focus on what really matters: complete the transaction !
In addition, it allows to aleter your team as soon as a prospect opens one of your e-mails, clicks on a link, etc. You can contact him very quickly (by email or phone) to ensure optimal follow-up. Everything is possible from your web browser.
This CRM part is extremely interesting since it allows you to implement controlled processes in your activity. A crucial point for a SME web that aims the efficiency and effectiveness of teams above all.
The Marketing part of Hubspot allows you to manage your sales tunnel: from the acquisition of traffic, to the sale through the conversion to leads. For this, the solution allows you to create a website (without technical knowledge required … we reassure you! 😊).
You can also develop your traffic thanks to the insights and SEO recommendations proposed by the tool. In addition, it will be possible to create landing pages to collect information about your users (email addresses) to form a mailing list.
The tool is ultra complete since it finally allows to communicate with this mail list via an autoresponder feature, as would a conventional email marketing tool.
Be careful, however, the SEO features are still pretty basic and we will be too adept to direct you to a specialized SEO tool to go further. Ditto for the CMS part that will be delegated more willingly to a full CMS, such as WordPress or Joomla.
This part will allow you to:
attract more leads (inbound marketing)
contact more leads
improve your conversion rate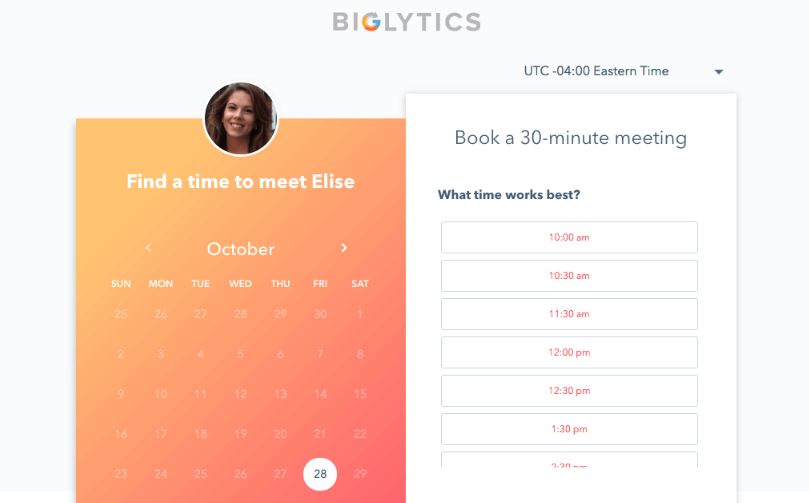 Hubspot Sale: the commercial features of the tool
Hubspot's Sales will help your sales team improve their day-to-day efficiency. For this, here are the possibilities offered by the tool:
creating email templates (shareable with your team)
E-mail tracking (alert when opening mail, clicking on a link, converting, etc.)
sending call proposals (choice of schedule) to your prospects
profiles of your prospects in the inbox
calls: call queue creation (to go directly to the browser).
live chat
reporting tables
adding a score to prospects (qualified or not)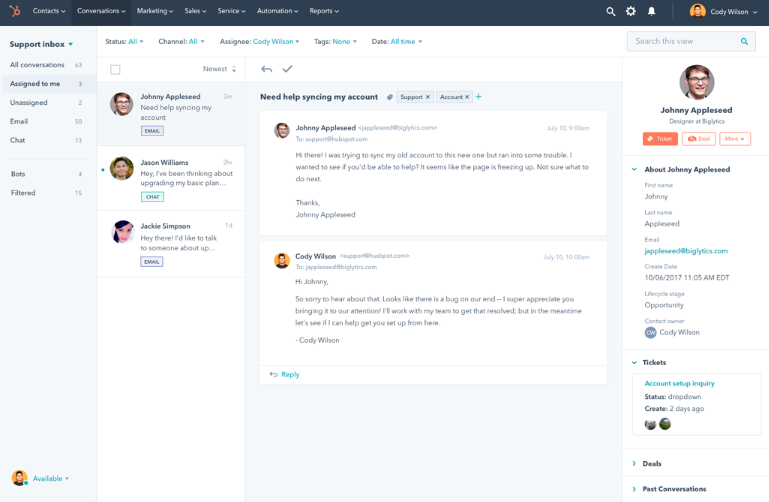 Hubspot Service: for customer service
The third and final part of Hubspot is devoted to after-sales service. A reputation for excellence does not stop with the product, but with the efficiency you manage your customers! To help you in your mission, Hubspot Sales allows you to:
centralized conversations: inbox accessible by your entire team
organization of customer tickets (attribution according to the team concerned, automation possible)
feedback: sending surveys to your customers
creation of automatic tickets if mail received at the contact address created
live chat, chatbots 
reporting on your performance indicators (to find out if your team meets the requirements of your customers).
We were pleasantly surprised by the comprehensive offer offered by Hubspot Service. It will allow you to direct your customers to the right online resources (via chatbot), you will automate the allocation of tickets and as a bonus you will see through custom tables the KPIs of your support teams. Every effort is made to make the processes as optimal as possible.
Our opinion on Hubspot
At outils-webmarketing.com, we have different profiles (specialists in SEO, emailing, creating websites, etc.). Few tools have impressed us so much that we agree on their effectiveness. Hubspot is one of those because beyond being just another CRM, it is a real webmarketing platform all in one, which will be suitable for your sales, marketing and customer support team.
The many features of the tool are mastered. Some are a little less effective than others (SEO functions in particular) but overall we were surprised by what the tool offers. A real Swiss knife for your SME!
Hubspot: offers and rates
Hubspot offers a limited free version (get it by
clicking here
) that includes the following features :
Then, for each part of the CRM, three offers exist :
Starter : 46€/month
Pro : 740€/month
Entreprise : 2944€/month
Starter : 46€/month
Pro : 368€/month
Entreprise : 1104€/month
Starter : 46€/month
Pro : 368€/month
Entreprise : 1104€/month
We invite you to go directly to the Hubspot website and create a free account to see the different offers. You can follow the following link to get done.