Learndash – Review (2020) : the LMS plugin for WordPress!
Do you own a site on WordPress and want to sell online courses on it? No need to look further. Learndash is an extension dedicated to the most popular CMS on the market. It turns your website into a sales machine. Here is our test of Learndash (2019) .
Learndash offers the following features:
course creation
monetization of courses
administration management
Compatibility with the latest tools 
Course creation with Learndash
Main functionality of Learndash. You will be able to create your trainings online thanks to a builder of courses easy to take in hand. A drag-and-drop interface allows you to create courses on the fly. You will be able to create course categories, lessons, themes, exercises and other quizzes. The tool offers the possibility to rename lessons in "modules" or other name, at your convenience. A good point on personalization side.
Quizzes : quizzes that you can propose several types of answers: simple answer, multiple choice, to fill, free text, etc. Depending on the student's performance, you can assign a personalized message.
Programming : You can choose to give access to all the lessons from the beginning, or to program the progressive unlocking of the lessons.
Timers: possibility to add a time allocated to each lesson to prevent the student from going too fast.
Prerequisites Management : Some advanced lessons require knowledge! You can define this kind of prerequisite to guide your student.
Forums : possibility to create forums dedicated to your course. Very interesting feature to keep a regular interaction with your students.
Rating assignment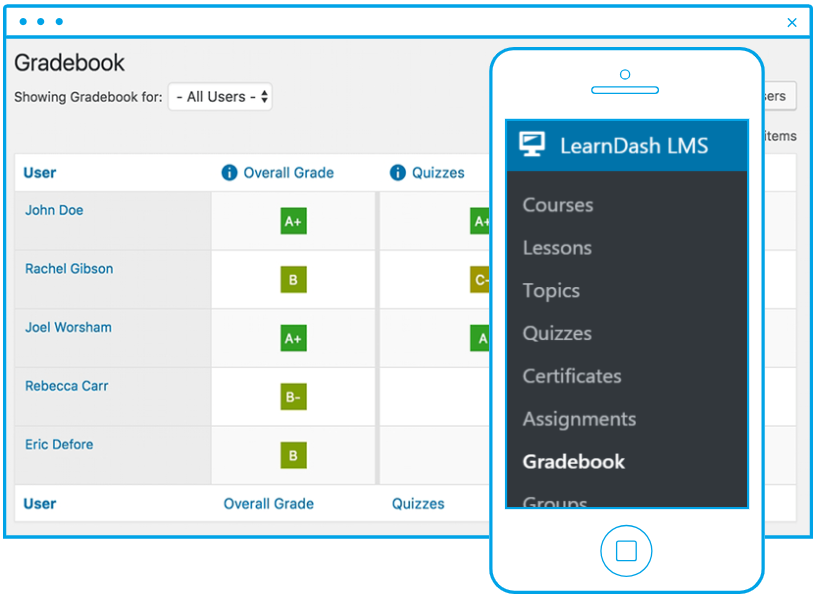 Assigning points during lesson completion : this allows you to unlock other advanced lessons. Your students will be able to choose their own learning path, which makes the process more enjoyable for them! Graduation
Course monetization
Learndash aims to simplify the sale of your courses as much as possible. You will be able to set up payments at once, recurring payments (annual/monthly). You will also be able to sell not only training, but also other digital products such as member access, or training packs. Finally, Learndash allows you to set up a shopping cart system on your site, much like an e-commerce site.
Administration Management
Learndash offers your students the opportunity to have a unique profile allowing them to consult the courses that are available to them, their progress, performances, their graduates acquired, etc. They can also use it for example to print their certificates.
The tool also includes a feature to manage groups of students. You will also be able to appoint leaders who will manage the progress and follow-up of the students.
Compatibility and various features
Among other things, Learndash also offers the opportunity to:
possibility of multi-sites (use of a license for multiple sites and subdomains
compatible with any wordpress theme
inserting videos, images, audios, Google docs, etc.
mobile compatible 
Learndash: offers and rates
Learndash offers the following offers:
Price : from 159$/month 
1 Site License
Unlimited Courses
Unlimited Users
Course Content Protection
Drip-Feed Lessons
Advanced Quizzing
Certificates & Badges
Course Forums
Email Notifications
Free Integrations
1-Year Support & Updates
BONUS: Demo Site Files
Price : from 189$/month
Up to 10 Site Licenses
Includes ProPanel
Unlimited Courses
Unlimited Users
Course Content Protection
Drip-Feed Lessons
Advanced Quizzing
Certificates & Badges
Course Forums
Email Notifications
Free Integrations
1-Year Support & Updates
BONUS: Demo Site Files
Price : from 329$/month
Up to 25 Site Licenses
Includes ProPanel
Unlimited Courses
Unlimited Users
Course Content Protection
Drip-Feed Lessons
Advanced Quizzing
Certificates & Badges
Running Forums
Email Notifications
Free Integrations
1-Year Support & Updates
BONUS: Demo Site Files