Long Tail Pro review (2020) : exploit the long-tail to attract traffic? 📈
Long Tail Pro
Starting from $25/month
In SEO, it is essential to perform a semantic watch to find the keywords most relevant to your website. Long Tail Pro is a seo tool that we tried. It is intended to help you find long-tail keywords (keywords low search volume). Putting oneself on these keywords can actually be a very good strategy in the long run. Here's our review (2018) of Long Tail Pro .
Long Tail Pro: features and explanations
Long Tail Pro defines 5 functionalities that can fulfill its tool:
find long-tail keywords
identify the relevant keywords
analyze your competitors
follow the evolution of your position
train you in search of keywords
How to find keywords with Long Tail Pro
As the name implies, Long Tail Pro is an SEO tool whose main interest is to find interesting keywords for your website. The keyword search step is essential: it will optimize your content as soon as your site is online and put in place a well-thought-out content strategy. Long Tail Pro allows you to search for a keyword and discoverall related keywords that you would not have thought of. For example, entering the tool a keyword such as "insurance", the tool will then give you keyword ideas such as "auto insurance", "life insurance", "insurance comparator" etc. This is a very good way to perform a preliminary semantic watch to launch your website on the right track. The tool allows you to suggest up to 400 keywords per search.

In SEO, it can be very wise to identify your main competitors to determine which keywords they have decided to focus their strategy. Long Tail Pro also proposes to analyze using the url (of a page or a domain) of a competitor to see all the keywords on which his site is located. You can then dissect its strategy of contents and decide to place yourself on the same keywords. Thus, you will know immediately what are the good keywords interesting for your business.
Identifying Relevant Keywords for Your Website with Long Tail Pro
One of the key steps in keyword research is measuring the difficulty of a keyword . Indeed, it will be much easier to refer to certain keywords than others. In general, the less a keyword is searched for and the easier it is to get there. When we create a new website, we will target the little searched keywords (less than 500 searches per month). Thus, the competition will be less and the acquisition of organic traffic will be facilitated.
Long Tail Pro intends to measure for you the difficulty of each of the keywords. Each keyword is categorized in difficulty "Low", "Medium" and "High". The ranking difficulty ranges from 0 (very easy) to 100 (extremely difficult). Thus, you will be able to identify very quickly which ones you will aim at. It is then possible to export the comparative table in order to exploit it.
The tool also allows to indicate the url of your site. He will then propose to find interesting keywords for your online business . It's easy!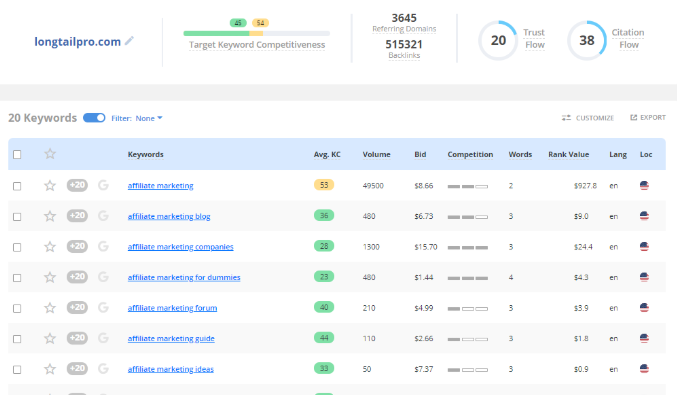 Competitive Analysis: How to do it with Long Tail Pro?
After the 2 previous steps have been completed, you will be able to analyze the search results pages in order to analyze your competitors. This step is crucial because it will allow you to know the "power" of your competitors through various metrics. For example, the Trust Flow, the Citation Flow, the age of the domain as well as the number of referring domains. This analysis will give you an idea of ​​the "size" of the sites with which you will compete. The goal, in fine, is to be able to analyze them in order to anticipate them in terms of referencing! It is also possible to copy/paste the URL of the page of a competitor to know all the keywords on which it is placed. Long Tail Pro also allows you to analyze the search page to see if it is better for you to adopt a PPC (paid search) strategy or if SEO (SEO) will be suitable.
Position tracking with Long Tail
Position tracking is also a key step in referencing a website. It is crucial to regularly track your keyword positions to see if you are progressing or if you are losing positions. Obviously, during the first months after the creation of your site, it is not necessary to carry out a daily follow-up. Without a dedicated tool, it's very difficult to follow your keywords. It is possible to manually view the result. Long Tail Pro offers a quick and easy way to make your life easier. A good way to know if your SEO techniques work … or not! The interface is clear and well presented.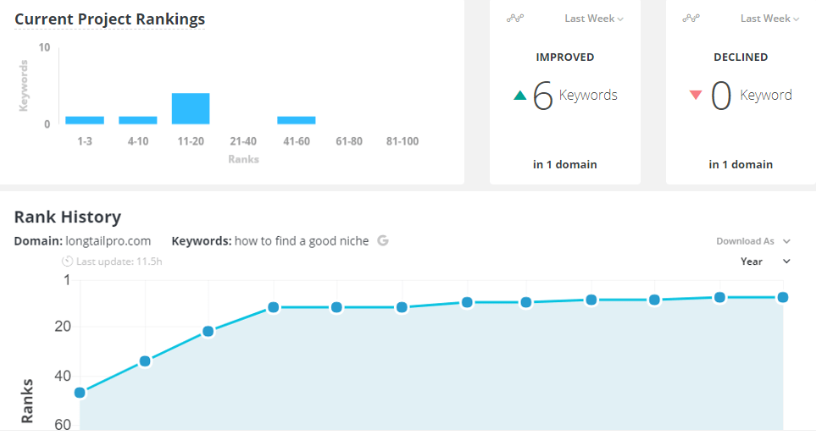 Keyword research training: for beginners!
Finally, Long Tail Pro offers a valuable exclusive feature for beginners. A series of videos called "Long Tail Bootcamp" will allow you to train you in the search, the choice of keywords as well as the creation of adapted and relevant content to refer to. The first videos are mainly for beginners while the following ones are more advanced. They will help you learn to use Long Tail Pro using the full potential of the tool. A nice addition!
Long Tail Pro: our definitive opinion
SEO tools can sometimes be scary as they offer features all more complicated to use one than the other. Here, the proposed features are very basic, but mastered. Search for keywords, analysis of competitors, difficulty keywords, everything is there. This is in our opinion a very good point since a very good content will allow you to very well reference your blog. Finally, the tool has a very good value for money since available from $ 25/month. A 7-day free trial offer exists, you can benefit by clicking on the button above!
Long Tail Pro: Rates and Offers
Long Tail Pro offers the following 3 offers :
Rate: $ 25 / month
Keyword search
Daily Keyword Searches: 800
KC calculations per day: 800
SERP searches per day: 800
Rank Tracker
Keywords followed: 30
Unlimited tracking domains
Tracking positions: daily
Account Management
Simultaneous Connections to the Account: 1

Bootcamp

Complete keyword research course: included
Rate: $ 45/month
Keyword search </ strong>
Daily Keyword Searches: 2500
KC calculations per day: 2500
SERP searches per day: 2500
Rank Tracker
Keywords tracked: 200
Unlimited tracking domains
Tracking positions: daily
Account Management
Simultaneous Account Connections: 2
Bootcamp
Complete keyword research course: included </ li>
</ Ul>
Rate:$25/month
Keyword search
Daily Keyword Searches: 6000
KC calculations per day: 6000
SERP searches per day: 6000
Rank Tracker
Keywords tracked: 1000
Unlimited tracking domains
Tracking positions: daily
Account Management
Concurrent Account Connections: 5

Bootcamp

Complete keyword research course: included