Aweber (review 2020): Is the most popular emailing tool on the market effective? 🤔
Aweber
Starting from $19 / month
At outil-webmarketing, our mission is to honestly guide you to the right tools adapted to your needs. Aweber is one of the most recommended emailing tools on the market. We are therefore entitled to ask ourselves the following question. Is it rightly recommended, or not ? 
We tested for you Aweber for a week. The verdict? Here is our opinion on Aweber (2019).
Aweber: the features
First, let's look at the different features of the email marketing tool:
Sending newsletters
Email automation
Split testing
Creating registration forms
Creating landing pages
Campaign statistics
Autoresponder
Segmentation of contacts
Live Webinars
In short, all that we can expect from a classic emailing tool. Let's take a closer look at what Aweber is worth. 
Newsletters sent
Aweber allows you to send newsletters. The first offer allows for $19/month an unlimited number of emails… with a maximum list of 500 contacts! It's very little. A small blogger creating a site with recurring traffic can very quickly reach this number. And we doubt that an SME with thousands of contacts will be satisfied with this plan.
The offer goes up to $149/month for a maximum of 25,000 contacts. Above, you will need to contact Aweber to get a personalized quote. The main advantage is that from the very first place, you have access to all the available features.
You have a drag-and-drop editor (now the standard in emailing tools), or templates already prepared (over 700) if you want to get to work quickly. Personally, I'm not very creative so I quickly opted for a template. Some examples are visible in the screenshot below.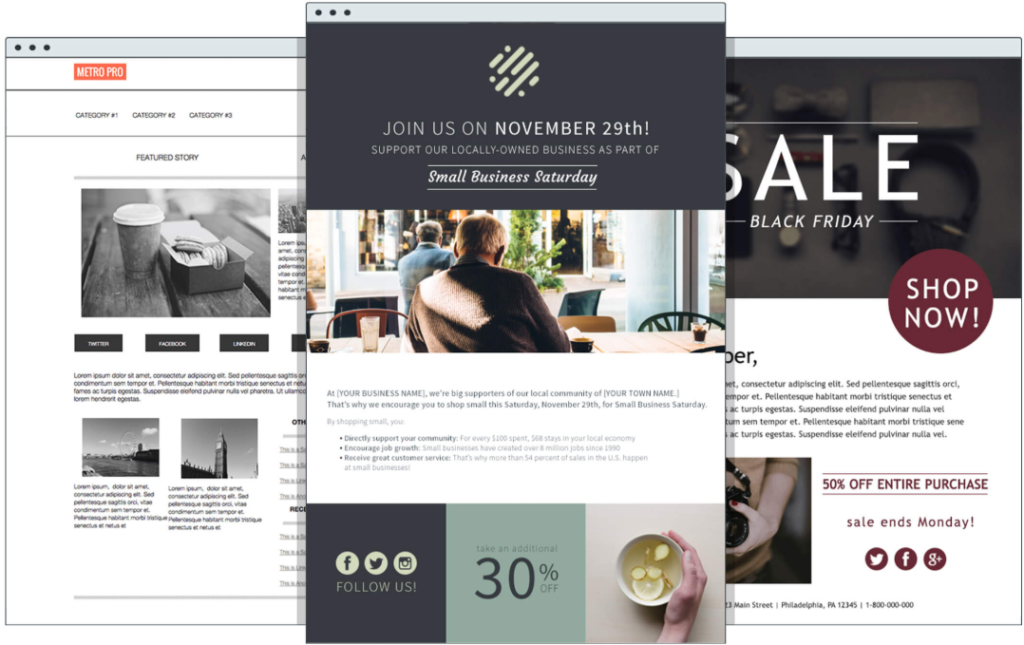 E-mail automation
It is essential to automate as many tasks as possible with low added value in web marketing. This allows you to "scale" your business and save a monstrous amount of time. Emailing tools can thus all automate scenarios that will be triggered, for example, when an Internet user subscribes to your newsletter.
You can then choose the "behaviour" that the emailing tool should adopt. Should we send him a welcome email? Followed 3 days later by another email presenting the main articles of your blog? Or the most popular products in your e-commerce?
All this can be customized by you. E-mails will be sent according to triggers. For example, an open email (or not), a visit to a page, an unfilled shopping cart, etc. We can then imagine all the possible situations and create the automatic behaviours to adopt.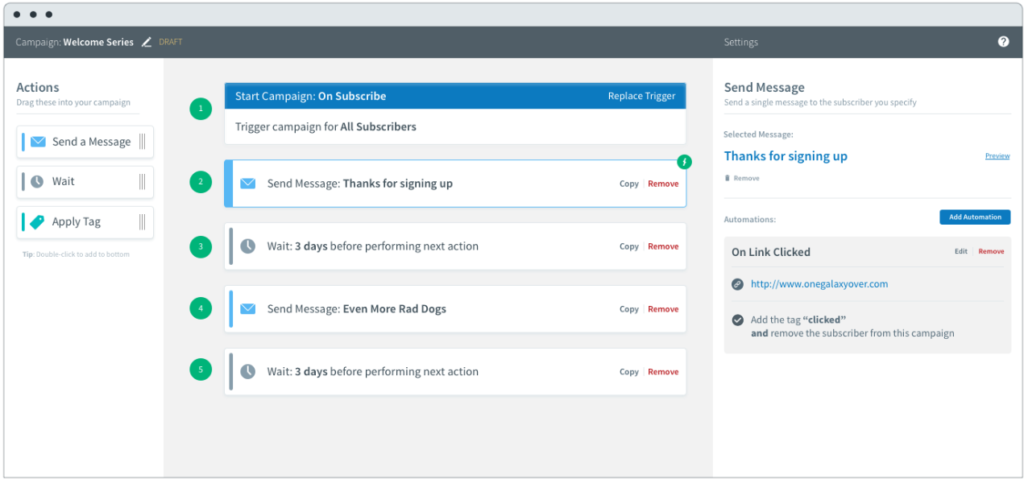 Again, a drag and drop editor allows you to create scenarios easily. Drag the action to be performed (send a message, wait[insert number] hours/days, add a tag to the contact) and your scenario is created. It is of course possible to create as many autoresponder campaigns as you want.
The advantage is the simplicity of installation. If you have never touched an emailing tool in your life or if you are new to the concept of autoresponder, you will not be lost ! 
Split testing
In webmarketig, it is also essential to optimize the conversion. To do this, the A/B test is your friend. The principle is simple, you propose an original page and a variant. You then test both models on a fairly high volume of shipments to determine which is the most efficient.
In emailing, for example, we can imagine a CTA that will be 30% more clicked in an email, because with a color that makes you want, a different wording, a different location.
You can also change the email headers to make them more attractive (add an emoji, a notion of urgency, etc…). Don't laugh, a simple emoji can make a big difference in your opening rate! On the example below, we see that emoji increases the opening rate by 2.5% and the click rate by 1.6%. Keep in mind how much this represents if your mailing list has tens of thousands of contacts…. 

Campaign statistics
We all like statistics. What could be more pleasant than to see that your community interacts with you and clicks on your emails, buttons, sign up… Or unsubscribe (it's part of the game!). Clear statistics presented in graphical form are available and allow you to analyse your campaigns.
Note that an "AWeber Stats" application for mobile phones is available and allows you to consult your results (mail list growth, commitment, etc.) wherever you are. 
It is also possible to track your sales statistics, much like a CRM would do.
Creation of registration forms
To obtain a consistent mailing list, you need to collect the emails from your audience. To do this, you can use an opt-in sidebar, a pop-up (very effective), etc.
Aweber allows the creation of registration forms. Be careful, in terms of design it's very sober. The possibilities are not very extensive, as you can see for example below, which is a pity.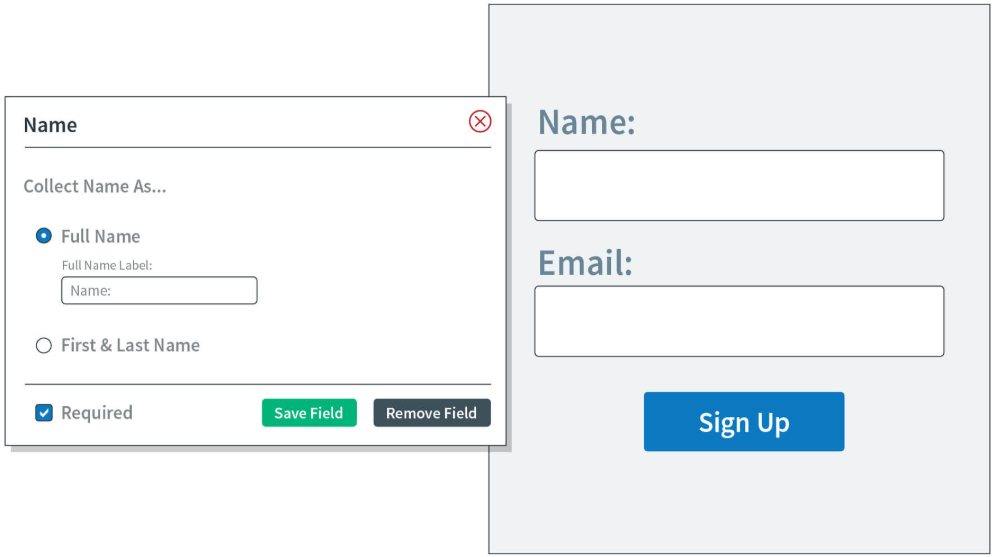 Landing page creation
Finally, Aweber allows the creation of landing pages. Here too, the possibilities of personalization are quite simple and not very advanced. We would have liked to be able to modify the pages a little more in detail. Nevertheless, a simple landing page is sometimes the one that will convert the most.
Our opinion on Awber
So Aweber… what's it worth? Extremely well known, probably because being one of the pioneers in the field, AWeber is a simple tool… Who didn't seem better to us than anyone else! Indeed, even if it has the "basic" functionalities of a good email marketing tool, it still has some flaws.
We can mention its extremely limited number of contacts that can be imported into the foreground (500) and the limits of customization of landing pages and optins that can be created. In addition, some features such as SMS marketing, which is generally provided by most competitors, are missing. Go to our emailing software comparison to make an informed choice!
Aweber: offers and rates
AWeber offers 5 offers. All features are included in each plan. What differs is the number of contacts that you can communicate with.
$19/month – 0 to 500 contacts
$29/month – 501 to 2500 contacts
49$/month – 2501 to 5000 contacts
69$/month – 5001 to 10000 contacts
149$/month – 10001 to 25000 contacts
For more than 25,000 contacts, request a quote here.