Mailify (Review) 2020 : how to manage your emailing campaigns from A to Z 👍
Mailify
Starting from 69€/month
Les points forts
Very easy to use (no technical knowledge required).
Useful for emailing and SMS campaigns.
The "drag'n'drop" editor for creating personalized emails.
Les points faibles
Relatively few templates available.
Can be quickly limited (5000 emails/month for the basic package).
Mailify defines itself as a true all-in-one marketing solution. Indeed, this tool allows you to manage your emailing campaigns, but also your SMS marketing campaigns and your marketing automation (scenario building). Mailify's slogan?
"Create, send, automate and measure the results of your email and SMS marketing campaigns."
Mailify : the features
Mailify offers 3 types of functionalities. Those for your emailing campaigns, those for your SMS marketing and finally the marketing automation.
Mailify : manage your emailing campaigns
If you manage your own website, building a mailing list can be a very good way to develop a loyal audience, interested in your identity and products. This is a small gold mine for those who know how to create a solid list!
However, creating a list is one thing, but knowing how to use it wisely is another.
Mailify will help you create sober, aesthetic and customizable emails to send to your audience. The solution offers a very intuitive drag'n'drop editor to add elements to your template by dragging your mouse. Obviously Mailify allows you to import your own mailing list (from your website for example).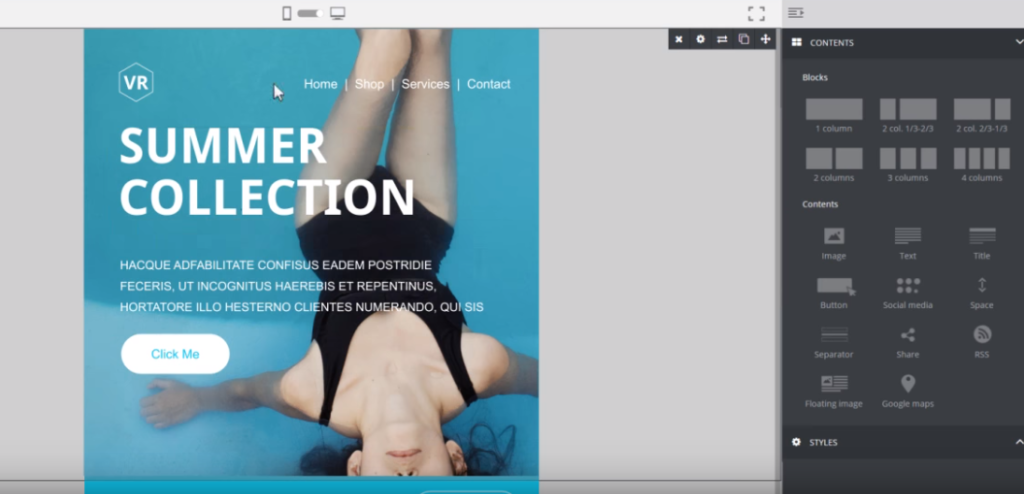 The advantage of this emailing solution is that it requires no technical knowledge. The very intuitive interface allows you to create in a few minutes, thanks to the templates provided, e-mails with a professional look ! For example, if you publish an e-commerce site selling men's sunglasses, you can send an email when creating a new collection, while offering a discount offer, for example. Nothing could be easier!
In addition, the design is responsive. This means that e-mails adapt to the resolution of your screens. If your customer on your mailing list opens your mail on a tablet, smartphone or computer, the images, buttons and fonts will also adapt. When we know that today more than 50% of Internet visits are coming from mobile device, this is a point not to be neglected!
As mentioned above, it is possible to import your own mailing list into Mailify. The import is unlimited: this means that if you import a list of 10 or 100,000 emails, the tool will not fail! Good news for professionals, who will sometimes have to launch emailing campaigns of several tens of thousands of emails. 
Mailify : manage your SMS campaigns (SMS Marketing)
The second feature of Mailify is to be able to create, manage and analyze your SMS marketing campaigns.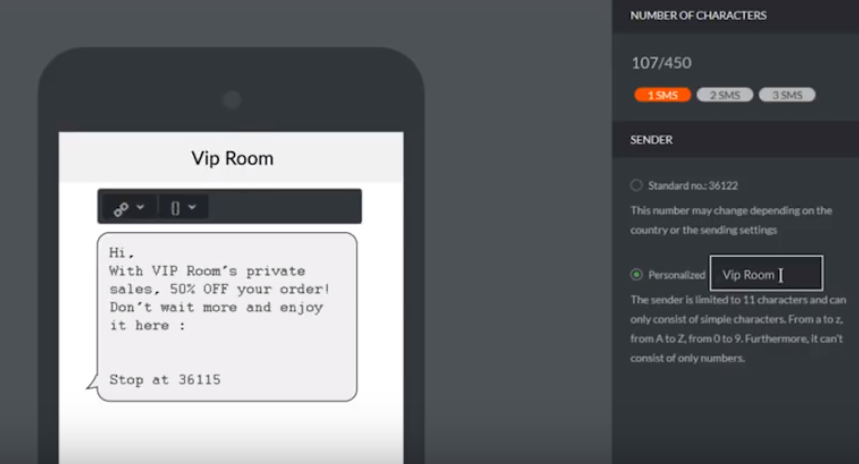 SMS marketing is another way to reach your audience easily (and quickly!). For example, imagine that on Black Friday, your e-commerce site offers a +50% discount on all products in your store. Marketing SMS will allow you to keep your audience informed about this promotional day, thanks to a short and straightforward message. For example, we could think of something like :
Today, an exceptional day of Black Friday: 50% discount on all our men's sunglasses catalogue !
An extremely effective way to keep your audience informed of your news. Mailify allows you to manage your SMS marketing campaigns, creating them from scratch. It is possible to customize the "sender" field, so that they instantly know that it is your brand. Among the various marketing solutions on the market today, SMS marketing is the one that offers the highest deliverability rate (with an average rate of 95%)!
In addition, it takes on average a few minutes for SMS messages to be delivered to thousands of recipients. Speed and efficiency, to summarize!
It is also possible to customize SMS messages with the "Rich Message Editor" which, like the emailing editor, allows you to create personalized and visually attractive messages. And of course, no technical knowledge is required. A great way to reach thousands of people, with a precise, personalized and aesthetic message, without having to call on a graphic design or communication agency.
It is obviously possible to track the rates of receipt and opening of messages in order to analyze the effectiveness of your campaign…. In order to continuously optimize your conversion! It is also possible to program sending times, delays between each sending, stopping conditions, etc.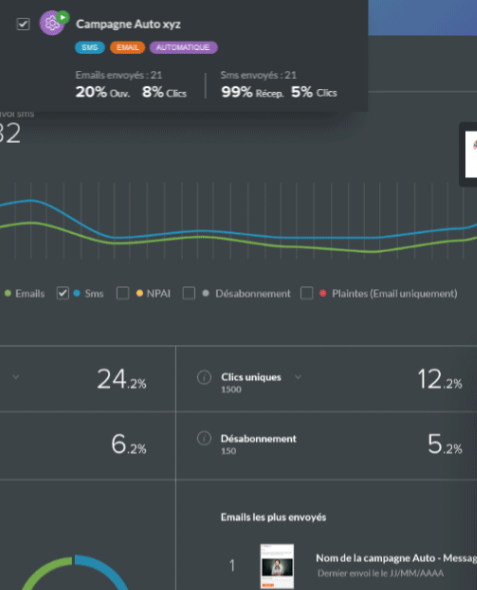 Mailify : for Marketing Automation
In fact, the third feature applies to the first two views previously (SMS marketing and email marketing). It is possible to:
Create personalized scenarios by SMS and email (sending mails/sms according to your audience's behavior – opening your messages or not, etc)
Program welcome messages, birthday messages, etc.
Complete setting of sending times, days, choice of stopping conditions…
Scheduling all these aspects of your email/sms marketing in advance saves a lot of time! Indeed, you will only have to schedule the sending times once (for example for a weekly newsletter that would be sent on Monday) and you only have to provide the content of the e-mail. It is also possible to monitor your campaigns, in order to analyze the data (opening rates, click rates, conversions, etc…) in order to adapt your email strategy and sms marketing. 
Mailify : what else?
Mailify also offers:
The creation of landings pages
The creation of pop-ups and registration forms for your site
Multi-user accounts 
Our opinion on Mailify
Mailify is a 2-in-1 solution to do everything for your SMS and Email marketing needs. The biggest advantage is that without any technical knowledge, it is possible to manage your emailing and SMS marketing campaigns from A to Z. From the creation to the programming of automated mailings, to the extremely simple personalization of your emails and SMS, everything is done to offer a simple and effective solution. These are the two biggest advantages of Mailify, summarized in two words! 
Mailify : how much does it cost?
In addition to a free 30-day trial, Mailify offers 2 offers: 
69€/month
Access to all features
Free & unlimited customer service
Removal of the Sarbacane logo
Training webinar
Quotation to be made on the Sarbacane site!
A consultant dedicated to your campaigns
Access to all features
Free & unlimited customer service
Removal of the Sarbacane logo
Training webinar