Agile CRM (review 2020): the all-in-one CRM tool 🤖
CRM (Customer Relationship Management) tools help you manage your company's interactions with your customers and prospects. Agile CRM is part of this software that promises to centralize all your customer interactions, from the first contact, to email exchanges and meetings, in one place. As you will see, it offers many other features beyond a "basic" tool dedicated to customer relationship management. We were able to test the Agile CRM tool. Here's our review (2019)!
Agile CRM: the features
Here are the main features offered by Agile CRM:
"Sales" features : contact management / transaction history / 1-click calls / making appointments / project management / gamification
"Marketing" features : marketing automation / landing page creation / social networking integration / emailing / SMS marketing / statistics (email performance) </ li>
"Customer Support" features : customer support / feedback management (product improvement via questionnaires) / knowledge base (FAQ) / customer ticket management / pre-formatted responses (for frequently asked questions)
As you can see Agile CRM offers many features and capabilities . For this reason, we will try to stay as concise as possible and get straight to the point.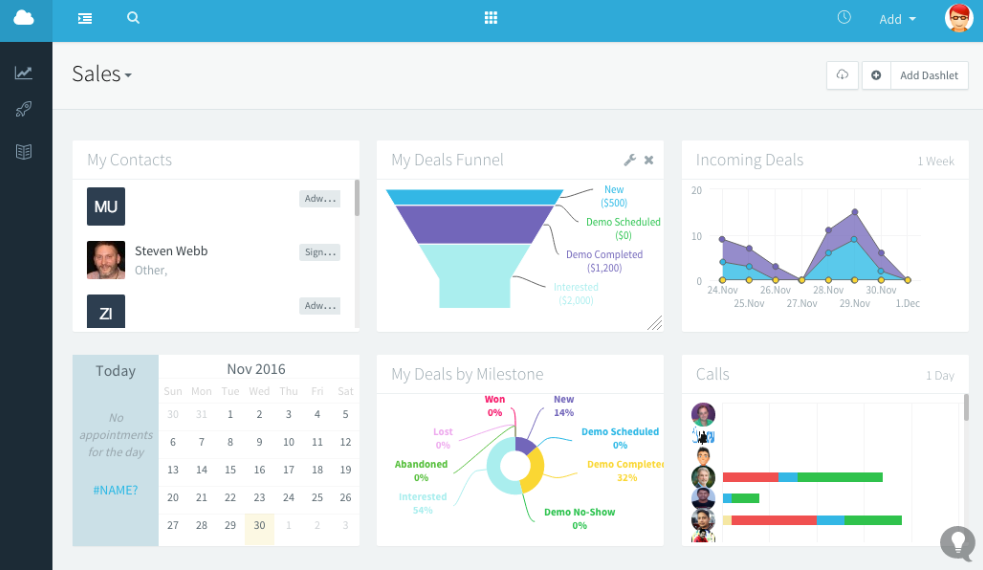 The "Sales" features
Calendar : AgileCRM offers over 50 ways to automate your sales. You will be able to manage an online appointment calendar for your team (possibility to synchronize with Google Calendar). You will be able to automate the "phone" part, but also the emails of relaunch.
View 360 : The tool provides a 360° view on the aspect of "customers and prospects" of your company: you can view conversations with your customers, call logs , their activities and online presence (as for example on your social networks). Every interaction you had with your customers is listed. Everything is presented as a timeline on one page.
Events : In addition, you can create events in an "Agile" calendar for your calls, meetings, demonstrations, etc.
Sales : possibility to track in real time the different stages of your sales cycle, for each prospect and customer.
Finally, the tool offers the possibility of directly managing your projects via a very intuitive interface and drag and drop easily shared with your teams.
On the automation side, it is possible to link Agile CRM with telephony tools such as Twilio, Ring Central, etc.
The "Marketing" features
Agile CRM is an all-in-one marketing solution. Thus, an entire part of the software is dedicated to lead capture. The tool includes:
Marketing automation with a drag and drop interface
Autoresponder to manage the emailing part of your business (with A/B testing, scenarios according to behaviors, etc …)
Email campaign statistics
Social Marketing
Mobile Marketing (mass SMS sending)
Creating pop-ups (people about to leave your website)
Creating landing pages
Managing push notifications
As you can see, from this point of view the tool is extremely complete. Agile CRM offers more than sufficient autoresponder features (capture of leads via your sales pages, sending bulk emails to your mailing list, SMS marketing and statistics of your campaigns – opening rates, clicks … ). This makes it possible to have only one tool for your company, which does a lot of things, in an efficient way. A good way to save money, when you know that the tools can quickly accumulate in a startup.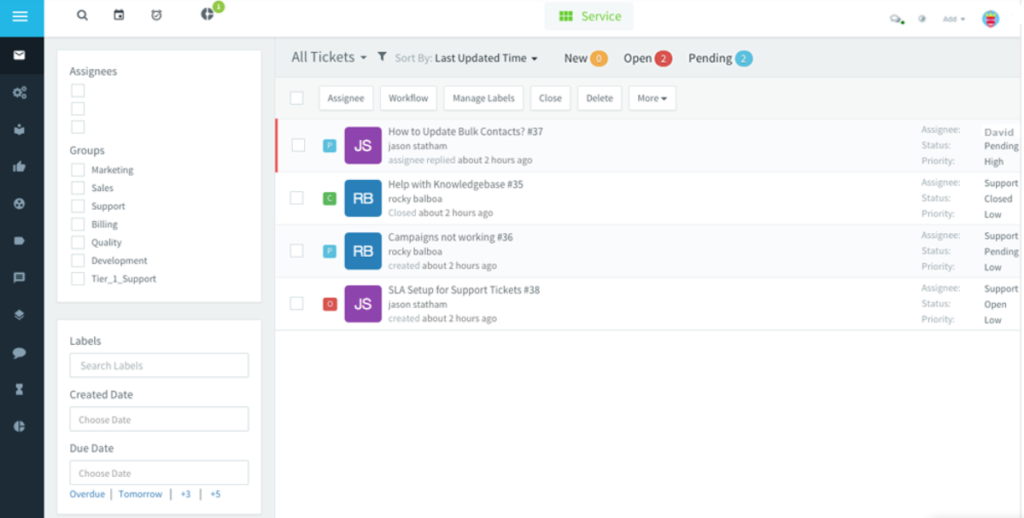 The "Customer Support" features
Any company worthy of the name must have exceptional customer support. Marketing does not stop at the sale: it continues afterwards, in the way you handle the queries of your customers. On this point, Agile CRM will make your life easier. The software allows you to manage your tickets intelligently. It allows you to solve each problem as quickly as possible via advanced features. Thus, you will be able to categorize tickets according to the type of problem encountered by the customer, in order to dispatcher to the right pole (commercial, technical, etc …) .. Then, he It is possible to add priorities and statuses (pending, being processed) on the dashboard, in order to visually identify very quickly which tickets need to be resolved first. In addition, adding alerts is possible when the ticket date reaches a certain threshold. Finally, you will be able to view in an instant the various statistics concerning your average ticket resolution rate, thanks to hyper intuitive reporting tables .
Our Review of Agile CRM
You will quickly understand after reading the test, Agile CRM is a tool that surprised us. Not by its extraordinary features that can be found in other tools, but by the huge panel of things that can be done with. The tool proves to be very interesting for its commercial features , from the first contact with your prospect to its transformation into a customer, through the resolution of its problems. The icing on the cake is the ability to use the tool as an autoresponder, feature that we found very compelling and meeting a real need for a startup or small company. It's his great versatility that surprised us. So, if you're looking for an effective tool, combining commercial, marketing and customer support features, Agile CRM will become your new little favorite. The big plus is its affordable price that will not fail to complete you … We do not doubt for a second!
Agile CRM: Offers and Prices
Agile CRM offers the following 4 offers (including 1 free):
You can try the free offer of Agile CRM by clicking the following button. We bet you will not regret it! 😊