Getresponse review (2020) : the 4-in-1 emailing solution !
Getresponse
Starting from 12€/month
Les points forts
A true 4-in-1 complete solution, from the creation of landing pages, to emailing and creating pop-ups.
Also lets you manage your webinars from A to Z, with great features.
The complex emailing scenario creation interface, very easy to learn and configure.
Les points faibles
No functionality dedicated to SMS marketing.
Getresponse is not defined as another emailing platform. The tool is defined above all as an all in one e-marketing platform. In addition to its features dedicated to emailing, the tool also automates a customer journey (according to their data/behavior) but also the creation of landing pages, as well as the creation of webinars. We tested Getresponse for 1 week. Here is our review of this tool
Getresponse emailing side
In the life of a website/blog, it is necessary to build a mailing list as time goes by. This has several advantages:
develop a loyal and engaged audience
regularly propose new content
make it easier for you to sell your products/services
etc.
Getresponse will allow you to interact with your mailing list by sending regular content. You will be able to create simple, aesthetic and personalized mails according to your niche. For example, imagine that you have an ecommerce dedicated to woolen socks. You can, without great technical knowledge, design e-mails in which you offer a discount code to your old customers. Another example, imagine that you have a small blog on which you talk about bodybuilding/fitness. You want to send your weekly newsletter to keep your audience informed of your just published article. Getresponse offers basic
more than 500 ready-to-use email templates
, infinitely customizable. In addition,
more than 1000 iStock images are free to complete your mailings.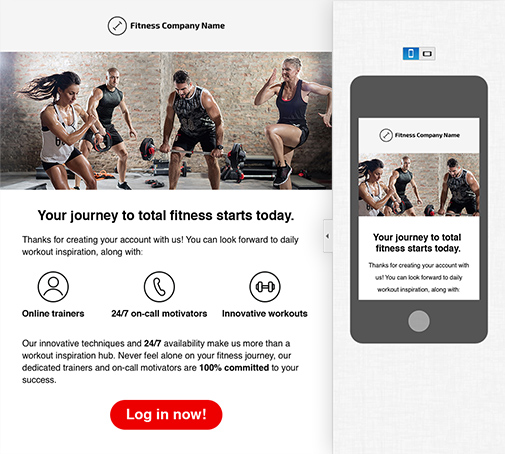 A mobile preview is available to give you a clear idea of how your email will look on your smartphone. Rather interesting when we know that mobile search is today better than the search on computer!
Each email can be personalized, including the name of the subscriber. There too a good way to create a little more humanity in your campaigns mails. Mass mailing in an anarchic way without customization is not the solution
Getresponse and Marketing Automation
The second feature is the automation of your emailing campaigns. Thanks to it, you will be able to create scenarios according to the behaviors adopted by your audience in order to increase the retention. For example, if you manage emailing for an ecommerce, you can increase the conversion of your products by sending an email when a basket is abandoned . A reminder email will then be sent to your customer. If he still does not deign to complete his order, it will be possible for example to send him a discount code of 5% to encourage him to validate it. This is just one example of a scenario that you can create with Getresponse. The strength of Getresponse is to be able to create this type of complex scenarios from a simplified interface as below.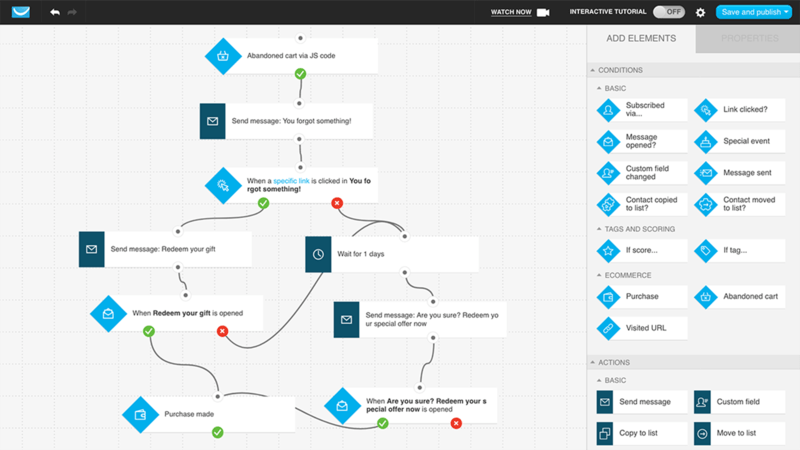 It is thus possible to create like this hundreds of different scenarios in order to optimize and automate as much as possible the emailing part of your business. Scenarios can be created based on the conditions met by a user (click on a CTA, cart abandoned, purchase made). Thus, for each of these cases, we can define an action to perform: sending an email, assigning a score (for example loyalty in your mailing list), assigning a tag, etc.
Getresponse: Creating Forms
Getresponse allows the creation of forms such as registration pages (a newsletter for example), sales pages, download pages, promotional pages, etc. The operation is done in 4 steps:
choose a page template
customize the page
publish the page!
Analyze the data (open rates, clicks, etc.) and optimize your page!
Getreponse also allows the creation of pop-up on your site, a very good way to increase the number of registrations to your mail list. You will be able to program the conditions of appearance of these windows. For example, it may be interesting to show them when a user has spent some time on your site, or if instead he wants to leave your site. For example, offering him a free ebook or an exceptional promo code may make him want to turn around and come back!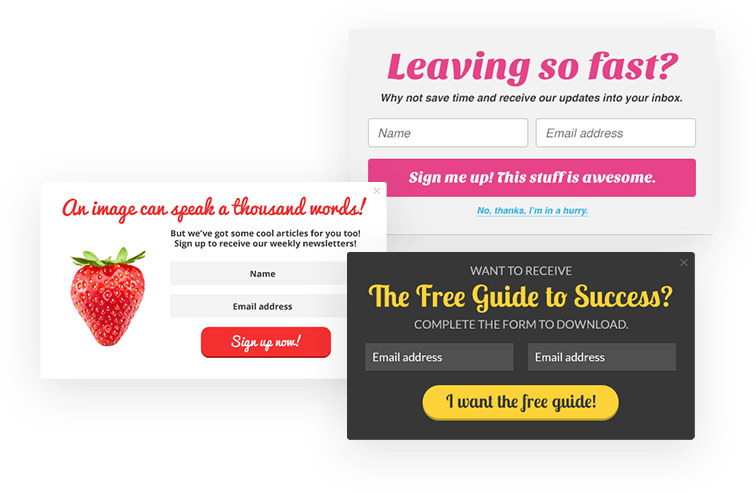 Just like creating emails, the drag and drop editor makes it possible to create professional-quality landings pages in a very short time. It will also be possible to perform A / B tests to find which type of registration pages converts best. We can then change the wording, the colors, the CTA etc … In order to have an optimized page conversion. Finally, Getresponse can be connected to the most popular analytics and remarketing platforms (Tag Manager, Google Analytics, Bing Ads, etc.).
Getresponse: creating webinars
Finally, Getresponse allows the creation of webinars to improve your conversion rates and engagement rate. You will be able to program your webinars from A to Z in less than 3 minutes! It is then possible to create custom urls of the form http://webinar.getresponse.com/outilsweb, schedule launch times, protect the webinar by password or leave it public, etc. Predefined mail templates specifically designed to promote your webinars also exist. You can schedule reminders (eg daily) to maximize the number of visitors to the appointment. In addition, a self-login system exists, allowing your customers to be connected to the webinar directly via the CTA located in your mails. A nice option! There are many additional options for your Getresponse webinars:
loading images to present during your webinars
Chat feature included to maximize engagement with your community, get them involved, etc.
screen sharing
polls function to collect opinions and ideas
In addition, data will be available at the end of your webinars to allow you to analyze participants: their geographic information, how long they stayed, what their votes were, etc.
Our opinion on Getresponse: good or not?
Getresponse is a very good 4-in-1 solution for web professionals (e-tailers or bloggers). Rather than having 4 plugins and / or different tools, here we find a simple solution that will meet your needs for emailing, landing page creation and marketing automation. The simplified creation of complex emailing scenarios using the drag and drop visual editor is a real added value of the tool.
Lastly, starting at just $ 12 a month, the tool is a bargain to seize. Getresponse offers a 30-day free trial (no need to enter your credit card) that you can get by clicking here.
Getresponse: rates and offers
Getresponse offers the following 4 subscription offers: