Mailjet – 2020 Review : Is it a good autoresponder?
Mailjet is an emailing tool created in 2010. This is one of the most used tools in the field. Indeed, more than 2 billion (!) Emails are sent per month using Mailjet. The tool tries to distinguish itself mainly by the collaborative dimension that it proposes, very important in professional environments such as startups, and other companies. We have tested the tool: Here is our opinion on Mailjet.
Mailjet: Features Overview
The Mailjet emailing software offers the following features:
collaborative workspace
creating emails
conjunction
creating registration forms for your mailing list
segmentation of contacts
customization of emails
email automation
transactional suite
API & SMTP relay
A / B testing
Statistical analyzes of your actions
Integrations with many tools
The Mailjet Collaborative Workspace
Particularly useful for startups and companies, Mailjet offers a space through which you can assign roles and permissions to your employees. Each will thus have different access depending on his role. One can for example imagine a distribution of roles as follows: on the one hand managers, on the other marketers and designers. Everyone can then deal with either transactional emails or marketing campaigns.
We can also imagine a company that has various subsidiaries: one in France, one in England, one in the United States … Each team will have different needs and must be "separated" on Mailjet. The tool allows you to create sub-accounts to manage this aspect of your business. Each subaccount will have very specific accesses. The number of users that can be invited for each mailjet account is unlimited. A strong point when we know that some companies can count many collaborators.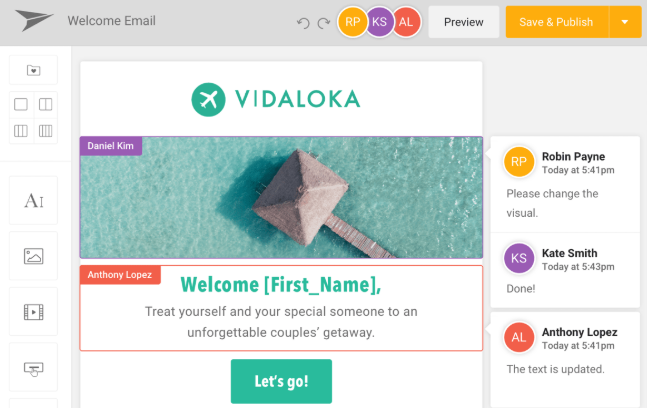 Note that it will be possible to work in real time on email designs (see screenshot above).
Create emails with Mailjet
We know that this is the aspect that interests you the most! Mailjet obviously allows you to manage your emailing campaigns, this is its primary function. The tool prides itself on offering an email creation that is quick and easy to handle (no technical knowledge required). We were able to test the tool and it turned out to be childishly simple. The drag and drop editor allows you to take control of the tool instantly. For beginners, it is possible to use the basic templates already provided in the tool.
The publisher of Mailjet, called "Passport" allows you to edit your marketing and transactional emails easily. The emails are 100% responsive which allows to obtain emails on all media (smartphone, mobile) perfect. For the most technical profiles, Mailjet also allows you to create your own templates in HTML. A good way to personalize 100% emails by having control from A to Z.
The collaborative aspect of Mailjet
As mentioned previously, Mailjet offers a collaborative work interface. It is possible to work on the design of your emails simultaneously, or through annotations and comments. It is possible to lock parts of the email design if you want them not to be changed.
Creating registration forms
At the base of any mailing list, there is its construction! Building a qualified and loyal mailing list requires time and a lot of investment … But this is well worth the cost. Mailjet proposes to allow you to create custom forms to your image! Forms that make you want to click and fill in your information.
The different forms templates available are simple and aesthetic. Whatever the theme of your blog or website, there will necessarily be one that suits. Web users who have completed the form with their information will receive an email to confirm their address. This will ensure you have a qualitative mail list and interested in your product and services. As for emails, it is possible to directly create your opt-in HTML widget.
The registration widget can be integrated into a page of your site or appear as a pop-up (for example if a user is about to leave the site). Small advice, the pop-up even if it is often seen as intrusive, can convert a lot of Internet users and make them subscribe to your newsletter. 
Simple email segmentation
It is possible to segment your subscribers to the mailing list by sorting them by interest, age, gender, behavior, city, etc. This allows you to optimize each shipment by targeting the right people at the right time. You can define your own segments! For example, if you want to send your email only to people living in a certain country, this is possible if you already have this data in your database.
Customize your emails with your data
If you have some information such as the first name of your subscribers, the Mailjet emailing tool allows you to customize the headers of your emails and the content with the first names. This will allow you to increase the engagement, the opening rate of your emails and add a human touch to your communication. It is important to consider your subscribers as human beings and not as numbers in your list to communicate effectively.
It is also possible to customize emails with images adapted to add a little cachet. 
Automate your emails: email automation by Mailjet
Like many market tools, Mailjet can automate your communication by email. You will be able to:
automatically integrate new recipients into your email series
engage them at the right time
reward their actions
define predefined custom scenarios
If you are a beginner, do not panic. Mailjet offers scenarios already prepared to allow you to address this aspect of emailing with serenity. In summary, it is to send emails in a specific order, following the actions (or behaviors) of users. For example, a welcome email after a registration, followed by an email presentation of your best articles 2 days later, and the introduction of your product 5 days later.
We were surprised by the clarity of the statistics that can be analyzed following the implementation of our scenarios. A good point for the tool that allows you to quickly see the blocking points of your communication by email.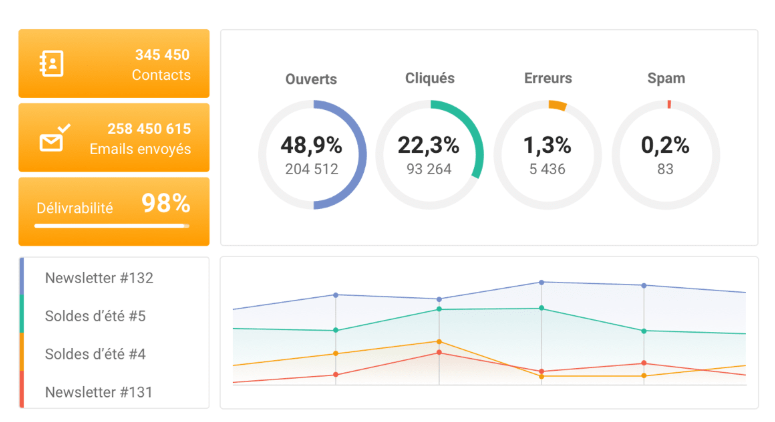 A/B testing with Mailjet: Needed?
A/B testing is crucial. It allows you to optimize your scenarios or mail templates by offering two different versions. You will be able to edit a button, a wording, a title, a layout and analyze which ones convert the best. Mailjet allows you to send up to 10 different versions to see which works best. A very useful feature that will allow you to optimize your conversion rates with little work … But a little observation!
Our opinion on Mailjet: in summary
Mailjet is a very good complete emailing solution. It is intended for both bloggers with a few hundred subscribers and large companies with higher emailing needs (tens of thousands of emails / month). Collaborative spaces also facilitate the intervention of a marketing team in the development of an email.
In addition, the different predefined scenarios, templates of mails and forms make it possible to be initiated to the emailing without prior knowledge. Rather interesting for those who do not necessarily have creative talent!
The icing on the cake, the tool offers a free version for life! Limited to 200 emails a day, it will allow you to build your mail list while taking advantage of the service. You can then consider moving to another plan if the tool satisfies you enough. To test the tool for free, it's happening here. Not interested in Mailjet ? Check the best alternative here.
Mailjet: Rates and Offers
Mailjet offers 4 different offers: