Jarvee – Review 2020 : automation for social networks 🤖
Jarvee
starting from $ 19.95 / month
Today, social networks are an integral part of our lives. On a personal and professional level, we like to spend a lot of our time there. The numbers are turning heads: 2.2 billion active users on Facebook, more than 1 billion on Instagram, more than 106 million for Instagram. For some, networks are an infinite source of potential customers, and to succeed in developing a "popular" account is for many a dream. The truth is that there is a "tip" to give a little boost to your account: the use of robots to automate the management of your account. We will take the example of Jarvee, a robot who is very likely to become your new best friend as a webmarketing writer.
Jarvee: for which social networks?
Jarvee is for people who want to catapult the audience of their account:
Facebook
Twitter
Pinterest
Linkedin
Tumblr
Instagram
YouTube
Google plus (now dead 💀)
Jarvee for Instagram
Jarvee will allow you to easily reach 1000 followers in a few days. How does the tool work? It is very simple. You will be able to use several accounts that you will indicate as "sources". From these sources, the Jarvee bot will take care of going to the accounts of its subscribers to either go to like their photos, or to follow the account. You can also use hashtags in the same way. Obviously, it will be necessary that the settings you have previously programmed are as natural as possible: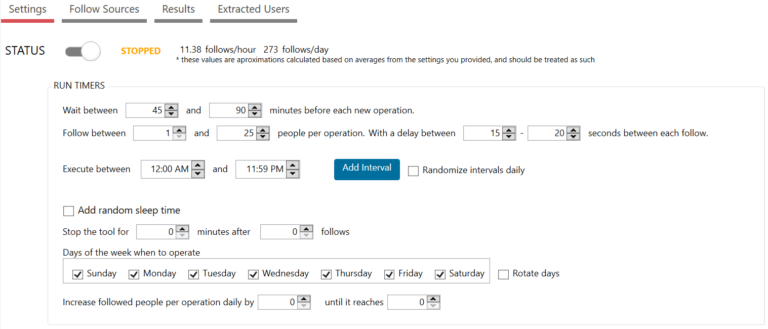 On the screenshot above, we can see that Jarvee offers simple settings to set up (and that are perfect by default). We can choose in particular:
the schedules of the day during which the bot will be active (it is recommended between midday and midnight to keep a natural activity)
the minimum / maximum number of people to follow at each "operation"
the maximum number of accounts to follow each day
the time between each follow
the days of the week during which the bot will be running
These settings are there for a good reason: there is no point in tracking 1000 accounts by day and hoping it will go faster. The only thing that will go fast, it will be the detection of your tool by the algorithm of Instagram! And the deletion of your account will follow.
Use Jarvee: is it cheating?
Jarvee will allow you to automate tasks that you would normally have to do manually. Is it cheating? Yes, in a way, because it will give you an edge over your competitors who spend hours and hours on Instagram trying to follow and like accounts manually, for low results. You will automate a "thankless" task to optimize your time and use it for something more productive.
Use an Instagram bot: is it legal?
Obviously Instagram does not like that we try to play with its algorithm, and a fortiori do not like bots. The goal of the game for you will be to go under radar, with settings well chosen. For that :
Follow fewer than 350/400 accounts per day
Like less than 350/400 accounts per day
Encourage your followers to participate in your posts, asking them for their opinion on a particular topic (in order to have commitment).
Disable the bot during certain time slots (midnight to 10h approximately). or certain days (especially Saturday, synonymous with rest for many).
Jarvee: how much does it cost?
Jarvee offers 3 subscription formulas.
$ 19.95/month. This formula allows you to use Jarvee for 10 social networking accounts, with all the automation and scheduling features discussed above. Customer support included.
$ 49.95/month. All that has been mentioned previously, for 70 social networks accounts. This offer mainly concerns webmarketing professionals, such as web agencies or independent consultants specialized in SMO (Social Media Optimization).
$69.9/month. All that has been previously cited, for 150 social network accounts. This offer mainly concerns GOS professionals.
Is there a trial offer?
Jarvee actually offers a trial offer without commitment of 5 days (no need for credit card). A simple way to test the tool and decide for yourself whether or not it is a relevant tool to implement in your acquisition strategy on social networks. We are conquered ! Check the best alternative for Jarvee here ! And the best instagram bot comparison here.