(Review 2020) KWFinder: how to find relevant keywords for your website 🔑
In SEO, keyword research is one of the most important steps in your strategy. Placing yourself on the right keywords will help you attract a
qualified audience
(interested in your products/services). Searching for the right keywords
before
to produce your content allows you to confirm that there is an existing request, and that your content will be viewed. Your efforts will not be in vain! Indeed, there is nothing more frustrating to produce non-optimized content that nobody consults … This is why we would like to present today KWfinder, a tool dedicated to the search for keywords.
Choose keywords strategically
Most SEO tools dedicated to keyword research have 3 main functions. These are:
 
search volume : this is the most important piece of information, it allows you to know the number of monthly searches for a query.
 
difficulty: each tool has its own indicator to know the difficulty that a site will have to place on the search page of this keyword. It usually ranges from 0 (easy to ranker) to 100 (very difficult to rank).  
Associated keywords: These are the keywords associated with the query you specified. Knowing your keywords will allow you to choose the most suitable, or even give you other ideas of content.
KWfinder in practice
Here is a practical example that will help you understand how it works. Here, we will choose the request "auto insurance", a very competitive keyword in France (because business generator).

Once we have searched for the keyword, the tool offers us a simple and clear dashboard. We can thus see:
 
The keywords associated with the keyword that we entered in the tool with different information. Here, we obtain keywords such as "auto insurance comparator", "auto insurance quote", "auto insurance simulation", etc. For each one, we can see the number of monthly searches, CPC (cost per click, interesting data for SEO or SEA) and the "KD" (for Keyword Difficulty).
 
The difficulty associated with a score. Here, 61/100 "hard" indicates that placing on this keyword is difficult. The competition is fierce!
In the box on the right, you can see the monthly search volume of the query. Indeed, the "seasonality" is a phenomenon to take into account in your search for keywords. During certain periods, the keywords are less sought. One can see in particular that there is a peak in January, month of the year when most people want to find insurance, or renew it.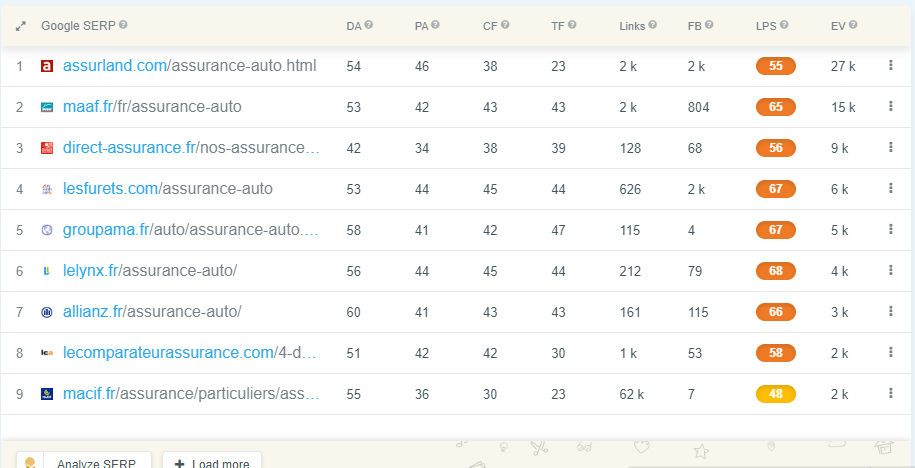 Another part of the dashboard takes Google's Sear Engine Results Page (SERP) and analysis. In an instant, you can see different stats associated with competitors that you will face. In bulk, you can find:
Domain Authority (DA), a metric derived from Moz that indicates the "power" of a domain, and varies according to the site's link profile.
The PA ("Page Authority" or authority of the page that appears on the SERP).
The CF ("Citation Flow", indicating a score ranging from 0 to 100 and indicating the number of referring domains of a website)
The TF ("Trust Flow", indicates the index of trust of the links received by a domain).
The number of links to the page.
The "LPS" or "Link Profile Strength", a homemade metric by KWfinder.
Another interesting feature of KWfinder: looking for questions ❓
KWfinder offers another function: the search for questions related to the search query.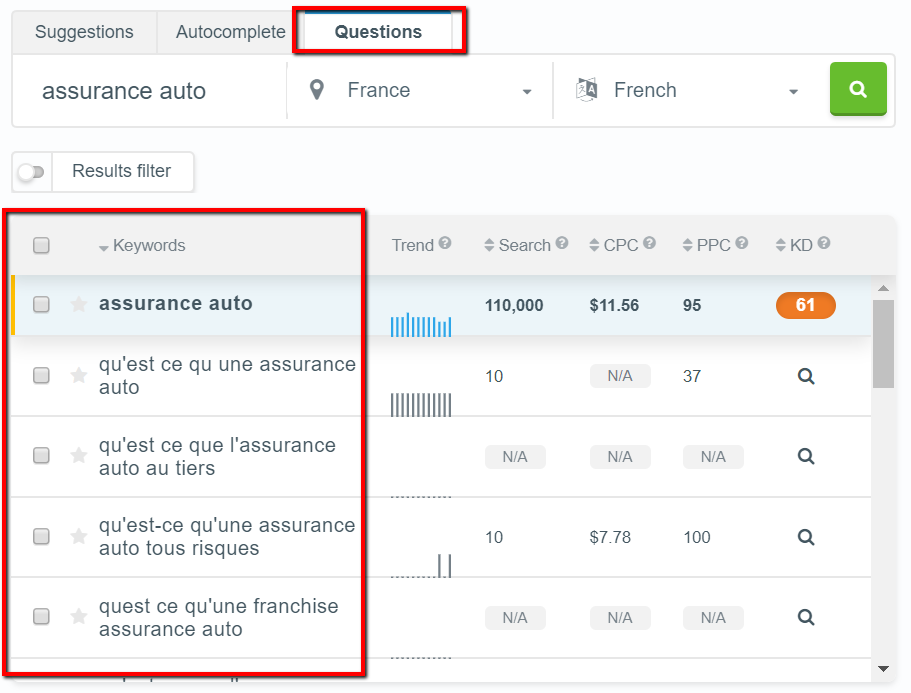 This function will allow you to know precisely the questions that can be asked by Internet users interested in your topic. Here, for example, we see that Internet users are seeking to know what an "all-risk auto insurance" is. Rather convenient to guide your content strategy! One could for example imagine a content detailing all types of insurance and their specificities. With Google voice search, people are asking more and more questions directly with their smartphone. This is a good opportunity for you to target such requests.
For which languages is KWfinder available? 🎤
KWfinder is available for:
Arabic
Bulgarian
Catalan
Chinese
Croatian
Czech
English
Estonian
Finnish
French
German
Greek
Hebrew
Hindi
Hungarian
Icelandic
Indonesia
Icelandic
Italian
Japanese
Korean
the Lithuanian
Malaysian
Malay
Norwegian
Persian
Polish
Portuguese
Romanian
Russian
Serbian
Slovak
Spanish
Slovenian
Swedish
Thai
Turkish
Ukrainian
… and Vietnamese. Whew!
Some tips for using KWfinder properly
Here are some tips in bulk to take advantage of KWfinder:
KWfinder: how much does it cost?
KWfinder offers 3 types of subscriptions:
From 25,90 €/month. 100 searches for keywords/day and 200 suggestions/search. Suitable for personal use (website publishing).
From €34.90/month. 500 keyword searches/day and 700 suggestions/search. Suitable for people with significant research needs (publishers of several websites).
From €69.90/month. 1200 searches for keywords/day and 700 suggestions/research. Suitable for agencies.
Our opinion on KWfinder
KWfinder is a very simple, no-frills tool that presents the essentials for a semantic tool. We find the basics of this kind of tool: related keywords, difficulty to place on a serp, volumes of research. The Query Search feature is welcome and not superfluous. For us, it's solid.