Best password manager 2020
In every person's life, there are unique moments that will never be forgotten. For example, the birth of a child. The purchase of a house, a beautiful car. For us, this was the discovery of online password managers several years ago. It seems inconceivable to us today to be able to surf the web without having this kind of tools dedicated to the security of your passwords.
How many times have you had to reset a password because you forgot it? How many times have you tried to retrieve a password from your paper notes (or text files!) when a simple tool could have done the job for you?
Having a password manager is now essential in the toolkit you use on the Internet. We have compared the different offers on the market and are now offering you our opinion on the best password manager in 2019 !
Password manager
Strong points
Characteristics
Free trial

Keeper Security

A real safe for all your data
Compatible with many devices.
The options dedicated to companies.
Price: 2,5€/month
Number of devices: unlimited
Applications: Mac, Windows, Linux, Chrome, Firefox, Safari, IE, Edge, Opera, iOS, Android
Discover Keeper

Dashlane

Quick to install and use.
The integrated password generator,.
Free up to 50 passwords.
Price: 3,33€/month
Number of devices: unlimited
Applications: Mac, Windows, Linux, Chrome, Firefox, Safari, IE, Edge, Opera, iOS, Android
Discover Dashlane

Lastpass

Easy to use
Secure notes, a complete functionality.
A real safe for all important information.
Price: 2,,67€/month
Number of devices: unlimited
Applications: Mac, Windows, Linux, Chrome, Firefox, Safari, IE, Edge, Opera, iOS, Android
Discover Lastpass

1password

Basic and reliable.
Easy to use.
Price: 2,99€/month
Number of devices: unlimited
Applications: Mac, Windows, Linux, Chrome, Firefox, Safari, IE, Edge, Opera, iOS, Android
Discover 1password
Our test methodology
To define which is the best password manager, we tested each one for a week to check which one is the most ergonomic, intuitive and fast.
We have therefore taken into account as criteria :
ease of use
quick import of all passwords from your browser
the presence of a secure password generator
the level of security guaranteed by the manager
the number of applications available (mobile/computer)
the monthly price
So here is without further ado our 2019 comparison of the best password managers!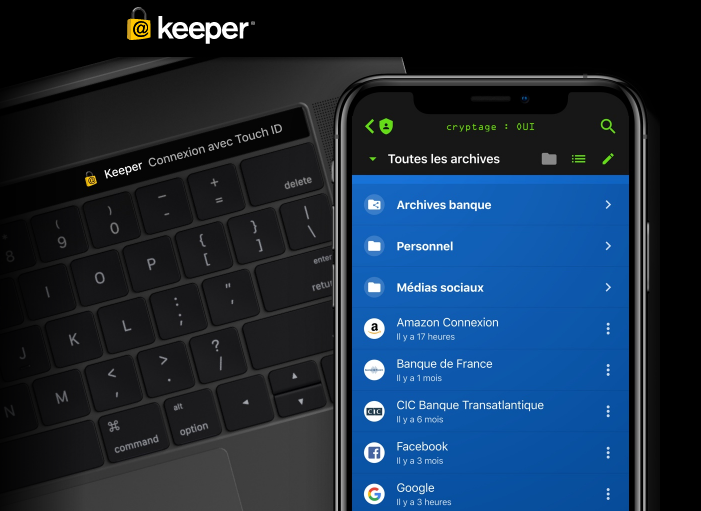 Price: from 2,50€/month
Keeper Security is a simple and powerful password manager. Indeed, the tool is intended for individuals and companies alike. Keeper offers several plans dedicated to families, as well as to companies (small and large) by offering each one personalized features such as :
Creating secure passwords
Automatic entry of passwords in login fields on websites using the KeeperFill extension
Storage of passwords, documents and other data
Password and file sharing with your colleagues / family
Management of each person's access levels (for Enterprise and Business offers)
In summary, Keeper is an excellent password manager for people who simply want to store their passwords in a safe, as well as for companies with data security needs. Keeper starts from €2.50/month, which makes it an affordable tool, ranking it in the middle of the basket in terms of prices.

Price: free (limited to 50 passwords), premium from 3.33€/month.
We had to test Dashlane as part of our tests carried out by the editorial staff. Today, we have unanimously approved Dashlane, to such an extent that we use it to manage our personal passwords.
First surprise, the tool automatically imports all passwords stored in your browser (in this case Chrome with us, we have not tested compatibility with other web browsers). After this import, the tool is immediately functional and allows you to pre-fill the fields on the login pages of registered sites. To do this, a small icon appears on the fields: just click on it and the information will be automatically filled in. The software is therefore very quick to install and use.
Dashlane also includes a password generator. When registering for a site, the software proposes to generate a strong password (usually composed of numbers, letters but also special characters) and to register it immediately.
The icing on the cake? Dashlane is free for life (limited to 50 passwords). A very good way to test it, and why not adopt it.
You can get Dashlane by clicking on this link.

Price: from 2$/month.
Lastpass is second in our comparison. Although it has the same technical features as Dashlane, there is a little something that prevented us from making it our favorite manager. The tool is:
very easy to use
integrates the "secure notes" functionality
allows you to save passwords, but also contacts, credit cards, wifi number, etc…
The only small problem is that Lastpass does not offer a free service for life like Dashlane. A disadvantage that may disturb the most economical of us. The solution is complete and presents everything you would expect from a password manager.
You can get one month free at Lastpass by following the following link.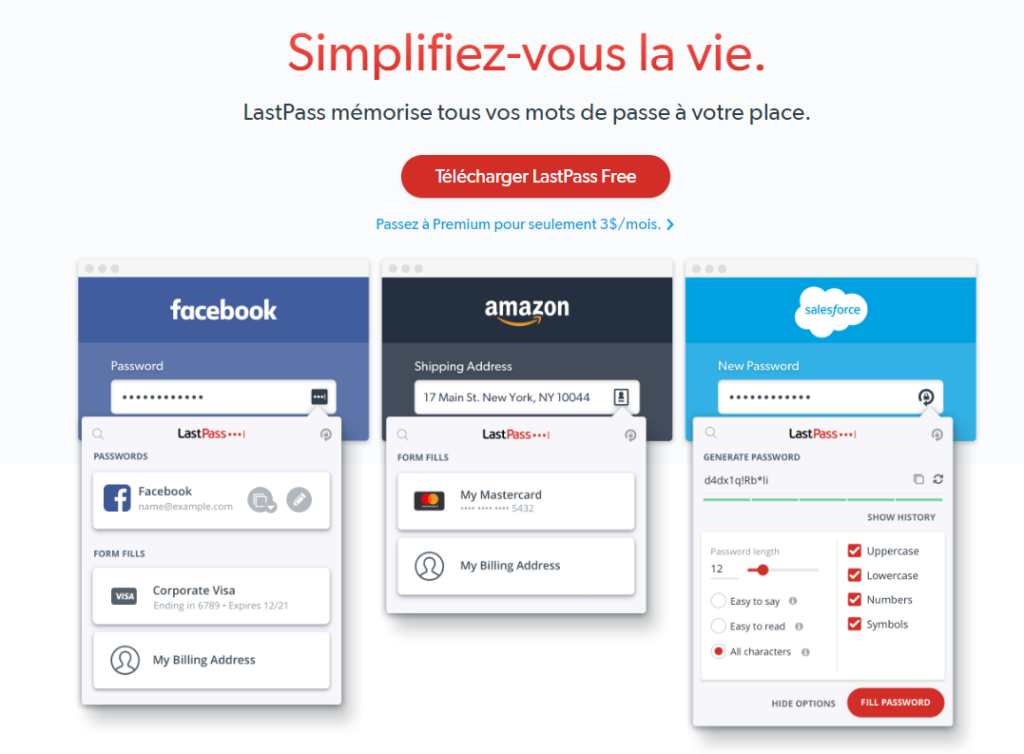 Price: starting at $2.99/month.
Unfortunately, using the test criteria seen above, we could not give a better place to 1password. Let's be clear: 1 password is an interesting password management solution.
However, unlike its main competitors Dashlane and Lastpass, it does not offer free lifetime services (such as Dashlane) or password generators. We must therefore be uncompromising in order to guide you as best we can. 1password is still a basic but reliable tool, easy to use and will offer the main one.
You can get 30 days free trial at 1password by just clicking here.