How to find an email address ?
When searching for an email address from a website or social network, there are two methods. You can try to find the contact address of a site manually, by searching for the "contact" or "advertising" page. However, if you have a long list of sites to review, it can be time-consuming…
Fortunately, there are growth hacking tools available that will save you a lot of time. One of the most effective tools is called "Hunter". Let's first see how to use it to find the email address of a website.
Finding the email address of a website with Hunter
First of all, go to Hunter's website to create a free account.
Install the plugin Chrome Hunter
Go to the site whose contact address you want to find.
From this point on, there are two scenarios. The Hunter plugin logo is red: just click on the icon to display the list of emails, sorted by poles (webmaster, publication manager, etc.). Note that Hunter's free formula allows you to find the email addresses of 100 sites per month.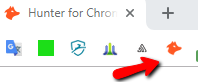 If the logo is greyed out, Hunter will not have found an email address for the site concerned. In this case, you still have to go manually to the contact page of the site! 
In this case, you can use the google operator "site:nomdesite.com contact" to find the contact page (sometimes difficult to reach).
Find the email address of a B2B prospect on Linkedin with Leadmine
Leadmine is an alternative to Hunter, which allows you to find an email address in a different way. For example, if you know a person's first name and know where they work, simply enter both in Leadmine to get the address. If you are looking for the address of Jean Hacking who works at Nike, enter both information and get the email address directly.
Leadmine also allows you to obtain the email address of a Linkedin profile that you are currently viewing.
You can also combine Google search operators to get a list of a company's prospects on Linkedin. For example, to search for freelance full stack web developers, type "site:linkedin.com freelance full stack web developer".
Leadmine will then allow you to export the list of results with the email addresses found corresponding to each profile. A great way to save time when looking for leads!
Finally, don't forget to use an email checker to find out if the addresses found are valid or not. On this side, Hunter and Leadmine both have their own functionality to check the emails found. No jealousy on that side…
Have a good email search! 😊