(Review 2020) Bluehost: the smart web hosting ! 🔷
Founded in 2003, Bluehost is a company specializing in hosting solutions. Where other companies diversify their services, Bluehost asserts itself as a specialist in the field, having developed its reputation and expertise over time. Several offers are available:
shared hosting
Cloud hosting
VPS hosting
dedicated hosting (the rolls of accommodations!)
Obviously, each of these offers corresponds to a different price range. Shared hosting, well known to webmasters, provides beginners in the creation of websites a low cost mode of accommodation. By taking these types of offers, your website will be hosted on a server with other websites belonging to other webmasters. In practice, it's like renting an apartment in a building. You have your space, and your neighbors have theirs!
Bluehost shared basic hosting
Bluehost offers in first service a shared offer starting from $ 2.95/month. This corresponds to € 2.58 per month, the equivalent of 3 crescent/month! Certainly, it's less delicious …
Even if this "basic" offer is cheap, its features are not cheap. Indeed, you benefit from unlimited bandwidth. Capital if your website takes off and lands on the moon (in terms of traffic, not physically!). The SSL certificate is free, which gives you some advantage in terms of SEO. Indeed, Google tends to give an advantage to secure sites. A secure site allows the user to identify those on whom his information is protected, when he wishes to access this site.
The disadvantages of the basic offer
Only 1 domain can be hosted on this entry-level offer. Compared to a web host like Planethoster offering a unique offer to host as many sites as we wish for a price a little higher, it's a shame. This is the main disadvantage that can be retained from the Bluehost offer.
Fortunately, other offers exist and can host as many sites as you want. These two offers, called "Hosting Plus" and "Choice Plus" allow the most demanding to have additional options. The "Plus" offer allows you to host as many sites as you want and store as much data on the server as you want. Both offers are priced at $ 5.95/month.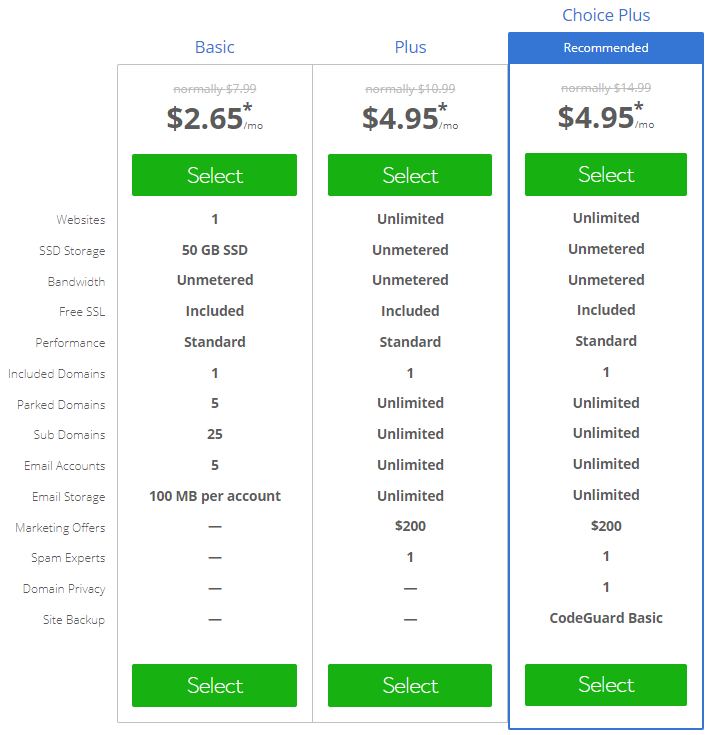 Dedicated hosting at Bluehost
In addition to the classic shared hosting offer detailed above. Bluehost offers the possibility to opt for dedicated hosting. This option is the most interesting option for demanding webmasters, who want a high-performance, high-speed web hosting . Resources allocated to a dedicated server are maximized. Generally, dedicated hosting will be interesting for professionals (eg those with an e-commerce site, or a site with very high traffic selling advertising space).
However, dedicated hosting is not for all budgets. Basic offer starts at $ 79.99 per month . Quality has a price! For that, what to expect from Bluehost dedicated hosting ? 
4 core processor, 8 threads
CPU 2.3GHz
500GB of disk space
4 GB of ram
5 TB of bandwidth
1 domain included
3 IP addresses provided
This type of hosting will be particularly recommended for large websites already generating a certain turnover. Note that a dedicated hosting can facilitate the referencing of your website. For people who are creating their site for the first time, shared hosting will do the trick.
Cloudhost hosting at Bluehost
The main advantages highlighted by Bluehost for its cloud hosting offer are:
a single offer (no hidden fees if you need more server RAM for example)
mirroring of data (essential for your site to be available 24 hours a day)
cache management included (server speed)
an intuitive dashboard : to analyze your site's data (traffic, server speed) in one click
additional resource allocation in one click (CPU/RAM)
If a technical problem occurs, your site automatically switches servers and remains available
Cloudhost's cloud hosting offer seemed quite interesting for us to talk about here. Indeed, Cloud hosting offers an incredible rate of uptime . Indeed, the data of your website (files) are available in three different places in the servers of Bluehost. 
Interest? If it happens that one of the servers is temporarily unavailable, your website will be always available on another server. Your site will always be online! A very good point that will allow you to sleep on both ears.
The other promise of Bluehost is to offer fast cloud servers. The server response time for cloud hosting is 151ms. A very good server time is considered to be below 300ms. For comparison, the classic shared hosting Bluehost offers a response time of 372ms. The static content of your site is cached to ensure optimal speed.
Finally, if your site grows and hundreds of thousands of users visit your pages monthly, it is possible to manually add RAM to your server to increase the capacity. All this without additional costs.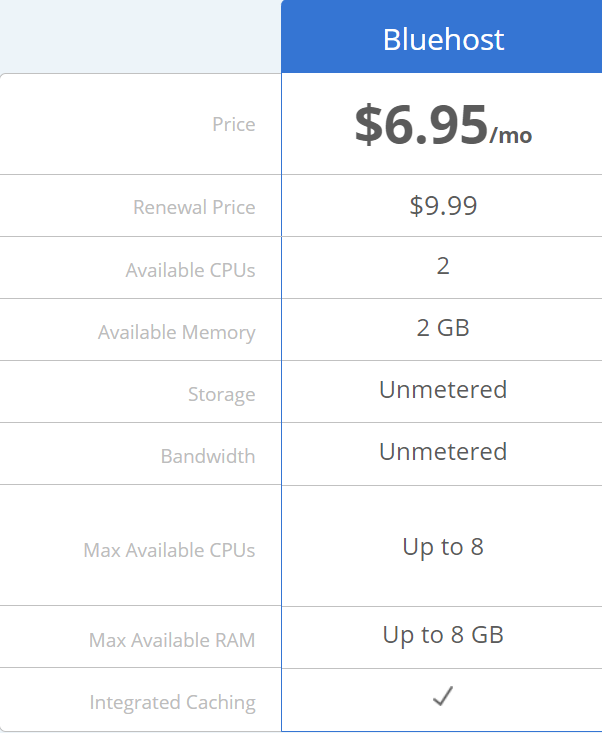 Bluehost's VPS hosting: for whom, for what?
In addition to the three types of hosting seen above, Bluehost offers a VPS hosting offer. VPS or Virtual Private Servers allow high performance for your servers. You will be able to control in real time the RAM and CPU allocated to your hosting, no matter what the other sites of the server have chosen. Your desires will be orders! 
To give a comparison, shared hosting divides its resources among all the sites installed on the server equitably. Thus, decreases in server response time can sometimes occur.
Bluehost's WordPress hosting
The Worpress hosting offer offered by Bluehost is interesting for bloggers. Indeed, WordPress is the easiest CMS to take in hand when you start in publishing websites. Here, Bluehost offers:
shared hosting for WordPress
the "Pro" hosting offer: hundreds of available themes, optimal performance (server uptime), marketing dashboard included
WooCommerce hosting offer: for budding e-retailers!
In writing, we tend to think that the accommodations "WordPress" are only a marketing argument. Indeed, a simple shared hosting and a WordPress installation in one click. Specialized offers "WordPress" in general bring nothing new if not some themes and some not very useful features. This is the case here. This offer brings nothing new compared to a basic shared offer!