Alternatives to Mailchimp : which is the best ?
On May 13, 2019, Mailchimp's co-founder, Ben Chestnut, announced an important update of the emailing tool. Indeed, Mailchimp was previously entirely dedicated to sending mass emails…. But that will soon be a thing of the past, since the Mailchimp platform is evolving to become a marketing platform in its own right: a place no longer dedicated solely to emailing, but also to all the other aspects of a business (social networks, CRM, etc.).
The problem is that Mailchimp's rates have exploded, with subscription offers starting at $99/month, which can be high for someone who simply wants to benefit from an emailing solution, without the additional features. Many Internet users have expressed their dissatisfaction on the networks. We have therefore decided to highlight in this article the main alternatives to Mailchimp. These alternatives have all been tested, and are mostly economical. Have a good reading !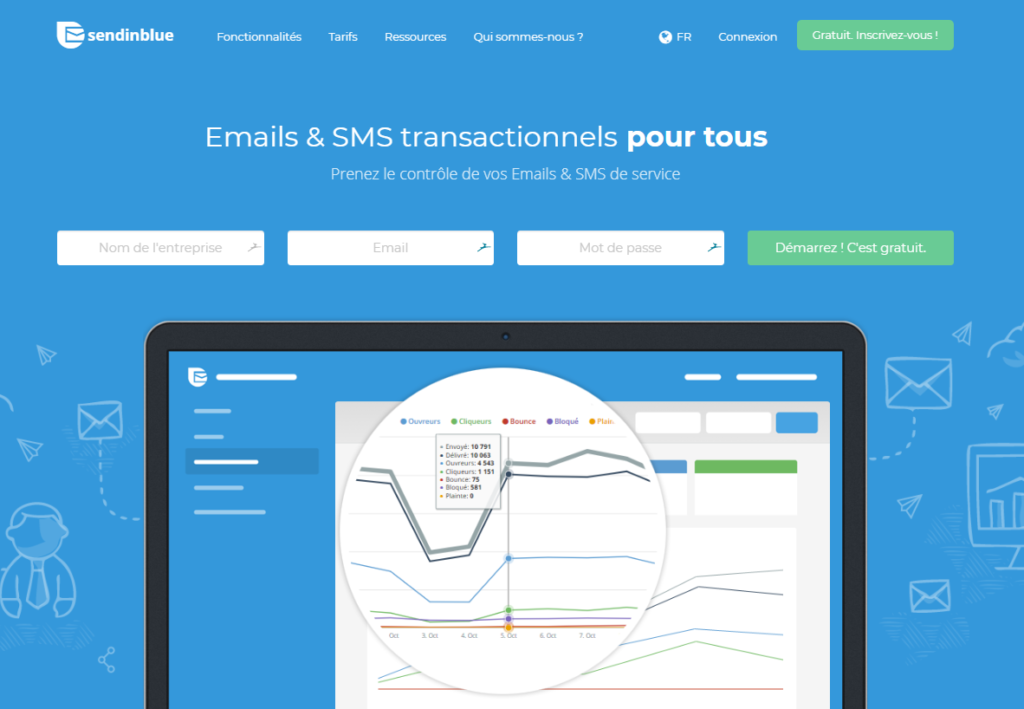 Prix : à partir de 19€/mois
Langues disponibles : Français – Anglais – Espagnol – Portugais – Italien – Allemand
Sendinblue est la principale alternative à Mailchimp qui s'offrira à vous. L'outil est disponible en 4 langues (français, anglais, espagnol et allemand, portugais, italien). Sendinblue offre une version d'essai gratuite limitée à 300 mails/jour. Un volume suffisant pour vous faire une idée quant à l'efficacité du tool. Les plans payants quant à eux sont comme suit :
Gratuit – 300 mails par jour (9000/mois)
 49€/mois – 120.000 emails
Sendinblue est donc bien plus économique que Mailchimp (plan de base à 99$/mois pour Mailchimp…). Le plan le plus cher de Sendinblue, est moins cher que l'offre d'abonnement standard de Mailchimp ! Ce qui n'est pas justifié si l'on souhaite simplement un outil d'emailing simple et efficace.
Du côté des fonctionnalités, on retrouve tout ce que l'on peut attendre d'un logiciel d'emailing classique : création de newsletters, gestions de vos listes mail, envoi en masse, statistiques des campagnes, planification. L'outil est même accompagné d'une fonctionnalité de SMS marketing, plutôt pratique si vous désirez utiliser ce canal de communication.
Cerise sur le gâteau, Sendinblue est compatible avec de nombreux outils du marché. Les CMS populaires du marché (WordPress, Prestashop, Magento…), CRM (SalesForce, Intercom), et outils anaytiques sont compatibles.
Alternative to Mailchimp #2 : Mailjet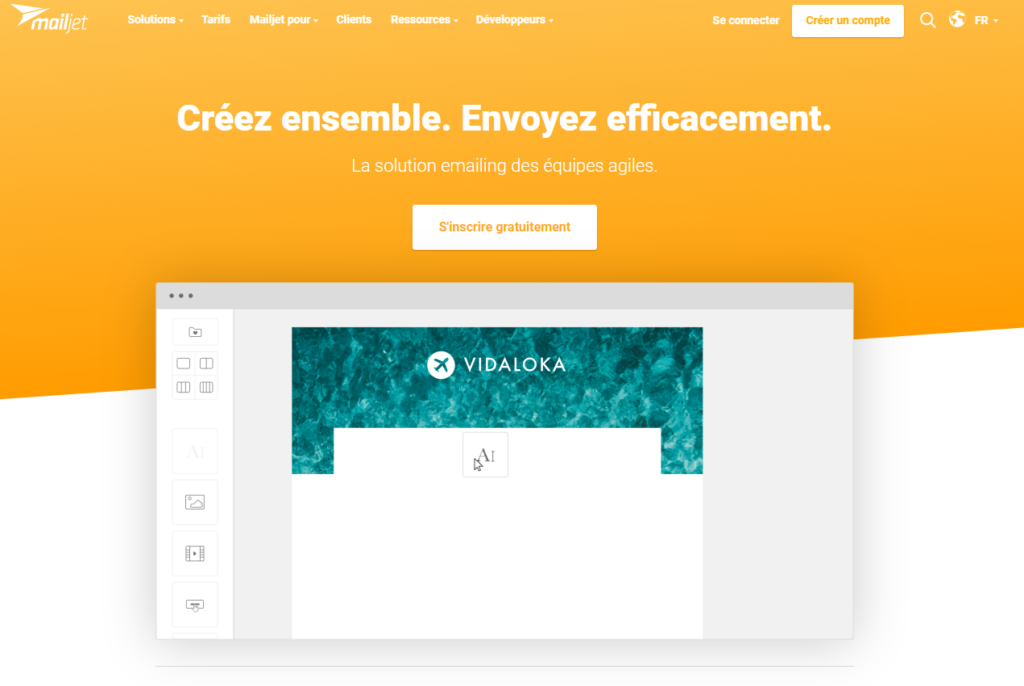 Price: from 7,16€/month
Available languages: French – English – Spanish – German
Mailjet is another economical alternative to Mailchimp. Mailjet is one of the cheapest emailing tools on the market, with a basic offer starting at 7€/month. This is a long way from Mailchimp's $99!
Like Sendinblue, Mailjet offers a free trial version limited to 200 mails/day. A little weaker therefore, but just as interesting to get an idea of the quality of the tool. The differentiating part of Mailjet is in the collaborative aspect. You will be able to modify newsletters templates in real time, at the same time as your colleagues. An interesting advantage that is not found at Mailchimp.
For an independent webmaster, the tool will be more than enough and constitutes an "entry-level" emailing software. A very good alternative to Mailchimp, then. Here are the different rates applied by Mailjet:
Free – 6,000 emails
16,16€/month – 30.000 emails
29,66€/month – 60.000 emails
Personalized offer – +30.000 emails
The prices thus remain similar to what is done at Sendinblue. Note that you can find directly on the mailjet website the possibility to test the mail builder.
Alternative to Mailchimp #3 : Aweber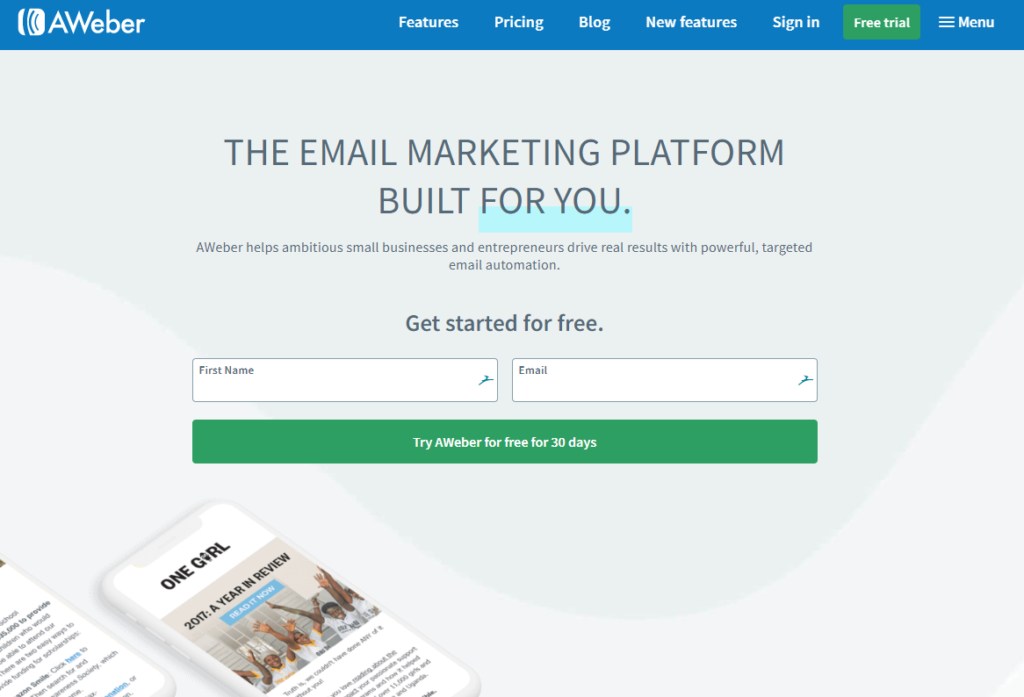 Price: from 19$/month
Available languages: English
Aweber is the third alternative to Mailchimp that we offer you. Aweber is a good emailing tool , which is not without defects. Let's start with its main advantages. Aweber is easy to use and its features are sufficient for a webmaster or a company with more important needs.
However, the tool offers limited possibilities for customizing emails. In addition, the size limits of the emailing lists specific to each type of subscription. Thus, the type of subscription to be subscribed takes into account the size of your mailing list.
19$/month – from 0 to 500 subscribers
29$/mois – from 501 to 2500 subscribers
49$/mois – 2501/5000
69$/mois – 5001/10000
149/month – 10001/25000
These limits can be a concern if you have a mail list with a large number of subscribers (or less than 300), but you rarely use the tool. For example, if you have 300 subscribers, it will be more appropriate to use a free trial formula like Sendinblue, which allows you to send 300 emails per day. This will save you from having to pay $19/month.
On a positive note, Aweber offers a free webinar feature. This is enough to tip the balance in his favour if you are interested in such a possibility.
Alternative to Mailchimp #4 : Getresponse
Price: from 12€/month
Available languages: French – English – Spanish – Italian – German
Like Aweber, Getresponse allows you to create your own webinars. Apart from that, it is an emailing tool that is a very good alternative for Mailchimp. The tool is complete and offers everything you would expect: registration forms (very aesthetic), pop ups, mass emailing.
One of its strong points is the possibility of creating complex emailing scenarios, but simple to set up thanks to an ergonomic visual interface. The only weak point of the tool is that it does not offer functionalities dedicated to SMS marketing. Getresponse offers a 1 month free trial offer to get a good idea of the tool.
The prices depend on the size of your list, and range from an average of 13€/month for a list of 1000 people, to 445€/month for a list of 100,000 people. We invite you to go directly to the Getresponse website to find the subscription you need.
Alternative to Mailchimp #5 : Benchmark Email
Price: starting at $13.99/month
Available languages: French – English – Spanish – Italian – German – Portuguese – Chinese
5th in our ranking of the best alternatives to Mailchimp, Benchmark Email is an old-fashioned tool. Created in 2004, Benchmark Email offers a simple but powerful tool that allows startups and companies to better communicate with their audience.
The tool is not revolutionary but has the advantage of automating emails (welcome emails, reminders, abandoned baskets, etc.). The proposed templates are very aesthetic. The only disadvantage we found was the lack of SMS marketing. The tool starts at $21.99/month, making it a very good and inexpensive alternative to Mailchimp…
Our selection criteria
Mailchimp's inherent concern is its high price. This is why we have highlighted in this selection a majority of tools at less than 20€/month. This provides you with an economic tool that is affordable for all budgets. We also wanted to highlight tools that are easy to use, available in several languages (for international teams) and that fulfil all the functionalities that are expected from a good emailing tool.