Elementor – Review (2020) : An Excellent Page Builder for WordPress 🔨
Several years ago, the first WordPress page builders appeared. Their objective ? Allow to make the creation of pages on your blog more intuitive, easy and visually aesthetic. Indeed, the basic text editor of WordPress was too limited to be able to make different and more varied pages.
Elementor is one of those reputable page builders and allowing to obtain a visual result of all beauty. At tools-webmarketing we use Elementor daily (including our tests and comparisons). We have been testing the tool for two months now and it is clear that it has become indispensable. This is our review and opinion of Elementor, the reliable and cheap page builder!
Elementor: Feature Overview
Elementor is an all-in-one solution for WordPress including the following main features:
Page builder
Website Design
Marketing Solution
Theme building
Developer Platform
Many built-in widgets
Integration with the most popular marketing and CRM tools on the market
Let's see in detail Elementor's efficiency for each of these features.
Elementor – Page Building
The main feature of Elementor is its ability to create WordPress blog pages from A to Z. The feature has an ultra-intuitive drag and drop editor to add the desired elements to each page. The idea is simple: the list of widgets is displayed to the left of the editor, and you manually add the widget where you want it.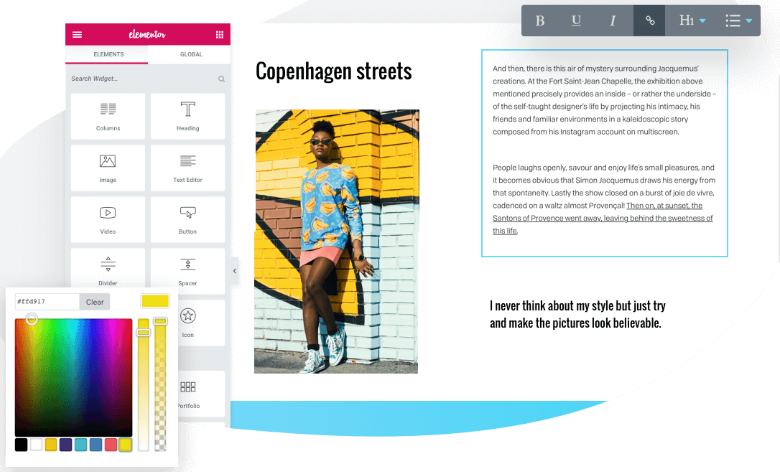 For example, you may decide to add a text box to access a classic Wysiwyg editor such as WordPress. Then you are free to edit the text directly in the Wysiwyg or in the HTML part. You can also add other widgets such as an image, a title, a video, a button, an image gallery, testimonials … The tool has more than 83 widgets Manually arrange to personalize your home pages, articles and registration forms.
For having tested the tool for a little more than 2 months, the tool reverts very quickly essential. One does not feel limited unlike a classic text editor such as WordPress or a classic CMS.
Note that, for example when adding an image, you can resize it live, add a shaded outline effect. Ditto for buttons (CTA) that can be changed on the fly in seconds. In our opinion, the only page-building feature is investment in Elementor. Let's see what else the tool offers.
Site design with Elementor
In terms of site design, Elementor promises infinite customization possibilities thanks to the drag and drop editor included in the tool. It is thus possible to use, in addition to the many widgets seen above, to use typographies and charts of multiple colors.
With regard to the addition of images on a page (for example an article page or a homepage) it is possible to carry out many live retouching (blur, clarity, contrast) in order to obtain the result on more visually pleasing. In bulk, it is possible to:
customize typography (use Google Fonts or other downloads)
add shadows to your texts
editing images via CSS filters
customization of colors
Elementor: also a content marketing solution
Elementor also proves to be an interesting solution for building your landing pages (or "registration forms"). The goal of a good landing page is to convert a maximum of Internet users passing on your page. Whether it's building a mailing list or selling your products and services.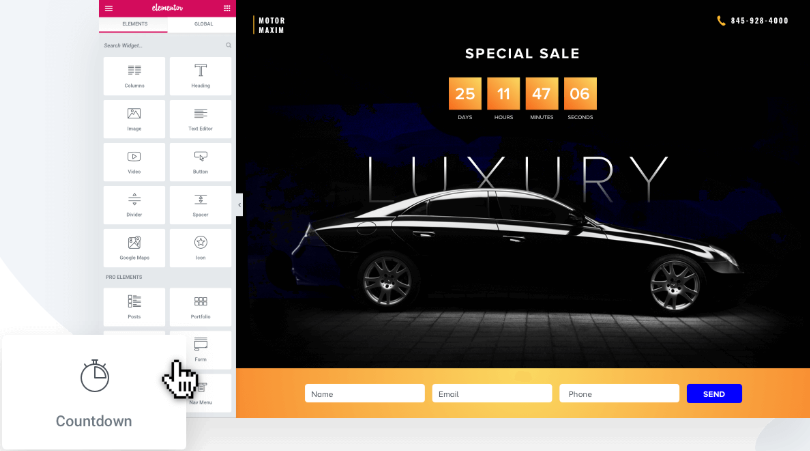 Elementor offers a visually appealing landing page construction feature. You only have to manage the visual part (frontend) and the software does the rest.
Elementor – WordPress Themes Builder
To be exhaustive, here is what Elementor can also allow you to customize:
header / footer
page / article
archive page
Search functionality
design of 404 pages
In the end, you can customize 100% of your site, from beginning to end.
Elementor – Integration with leading marketing and CRM tools in the market
It is possible to use Elementor and integrate the main marketing tools of the market, social networks, such as Mailchimp, Hubspot, Getresponse, Convertkit.
Elementor: Rates and Offers
Elementor offers the following 3 subscription offers. You can also benefit from the free tool for life (limited features) by clicking here.
Price: $ 49 – License for 1 site
50+ Pro Widgets
300+ Pro Templates
Theme Builder
WooCommerce Builder
Support for 1 Year
Updates for 1 Year
Price: $ 99 – License for 3 sites
50+ Pro Widgets
300+ Pro Templates
Theme Builder
WooCommerce Builder
Support for 1 Year
Updates for 1 Year
Price: $ 199 – License for Unlimited Sites
50+ Pro Widgets
300+ Pro Templates
Theme Builder
WooCommerce Builder
Support for 1 Year
Updates for 1 Year