o2switch (2020 review) : the unique-offer low cost web hosting 💻
Les points forts
The unique offer. One accommodation, all unlimited, for € 5 per month.
Possibility to install multiple sites (multi-sites) unlimited
No hidden fees.
Les points faibles
1-click installation of CMS (WordPress, Joomla ...) not available.
We are in 2018 and you want to create your website. An exciting adventure is on the horizon! You make plans to go fast, imagining already become a millionaire through your blog. It's perfect ! However, do not put the cart before the horse. The first step is to choose a web hosting tailored to your needs. Millions of web hosts exist, it's a fact. Today, we test for you and give our review of 02switch. Let's go !
o2switch: presentation of the host
In reality, choosing a web host for the first time is not that complicated. Indeed, if you create your first site, your needs will usually be quite low. Generally, a beginner in creation will need:
the possibility of having a free domain name, included with the hosting
enough disk storage to not be bridged quickly
unlimited bandwidth (so you can keep the same subscription despite the popularity of your site)
no hidden costs
a responsive customer service, as you are likely to face technical issues related to creating a site
… And that's all ! A good web host should in our view fulfill these few conditions (in the case of the creation of a first site, in any case). So, what does o2switch propose for its part?

A unique offer
In general, the majority of web hosts offer several offers, often presenting as:
a starter offer : often limited in bandwidth, disk storage, with a domain name sometimes included, sometimes not understood. A certificate ssl absent, etc … A basic offer, offering the bare minimum. It is often a low price offer, less than 6 €/month.
an intermediate offer: this one is more complete, with a free domain name, the ssl certificate included, advanced security features, unlimited bandwidth, possibility to install several sites.
a premium offer: this is generally a dedicated hosting (ie a server on which only your website is installed, unlike a shared hosting). Accompanied by many additional features, often not very useful!
o2switch offers a completely different concept: a single all-inclusive web hosting offer, unlimited. There is more to choose between cost, powerful CPU, memory, number of sites to install, etc. A rather interesting idea for people wishing to quickly end the "formalities of use" in the creation of a website, and go directly to the concrete (create content, develop an audience, etc.). What does o2switch offer in this unique offer?
disk space: unlimited
number of visitors (bandwidth): unlimited
a free domain name
subdomains (for example: subdomain.tools-webmarketing.com): unlimited
multi-sites (ability to install multiple sites with hosting): unlimited
Technical Support:7d/7 (as seen above, a very useful point) </ li>
To be more concrete (because these features may not speak to you if you are a beginner, let's take a simple example.
You want to create your blog on a passion that is dear to you: football. You want to create a football fan site on which you can relay your predictions and news of the round ball.
If you need accommodation, taking this offer from o2switch, the unique offer will perfectly suit your needs. Indeed, with all the features listed above you will be able to:
have as many visitors as you can, without paying +
install as many football sites as you want, for 5 € per month (for example several sites of football teams, mercato, etc …)
not be limited in terms of content on your site: write thousands of articles without problems, without limits.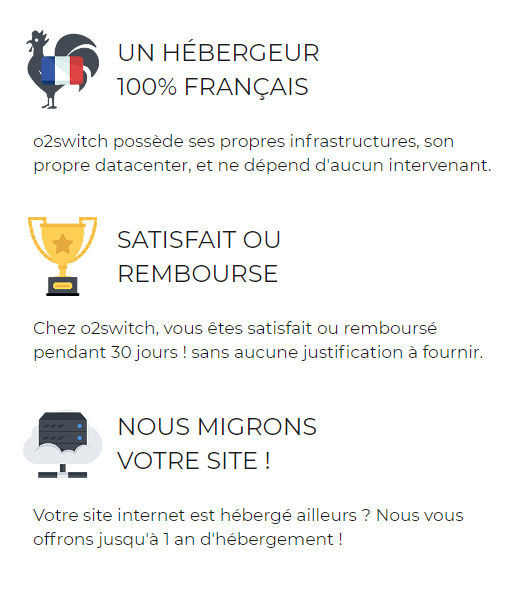 The other benefits of o2switch
o2switch puts forward 10 other advantages, which will impact you … But which remain important! :
The company is based in France, which can reassure the quality of the service provided.
The whole infrastructure is managed by o2switch without any intermediary, which allows to see the costs down while guaranteeing an optimal service.
A unique offer (as seen previously).
Money back guarantee.
All-round technical support.
Tracked by an o2switch technician.
Reliability of the service. Permanent software and hardware updates.
Evolution of the offer over time, in order to guarantee an optimal service.
Transparency: the status of services can be accessed in real time, as well as current and scheduled maintenance. li>
Ecology: an environmentally conscious society, to ensure a minimum impact on the outside world. 🐼
o2switch: what we like less
There is little to complain about the offer of web hosting offered by o2switch. The service is cheap, the offer is simple without cutting corners on features. The only thing that could bother is the lack of installation of a CMS in one click, as is often the case with the competition, for example at Bluehost and Hostpapa.
Indeed, by starting in the creation of websites, we like that everything is done as quickly and better. I was able to test both types of installation (in one click via the host or manually). That one click really speeds up the process of setting up your domain. We would have liked to have this extra service!
Apart from that, the service is efficient.