Morningscore coupon code 2020 – 15% discount
If you are on this page, it is because you want to benefit from a promotional code for Morningscore. You are quite right to want to get the latest promotional offer! To get it, it's very simple. Click on the following button to reveal the promo code we have obtained for you. It will allow you to have a 15% discount offered for life on your subscription.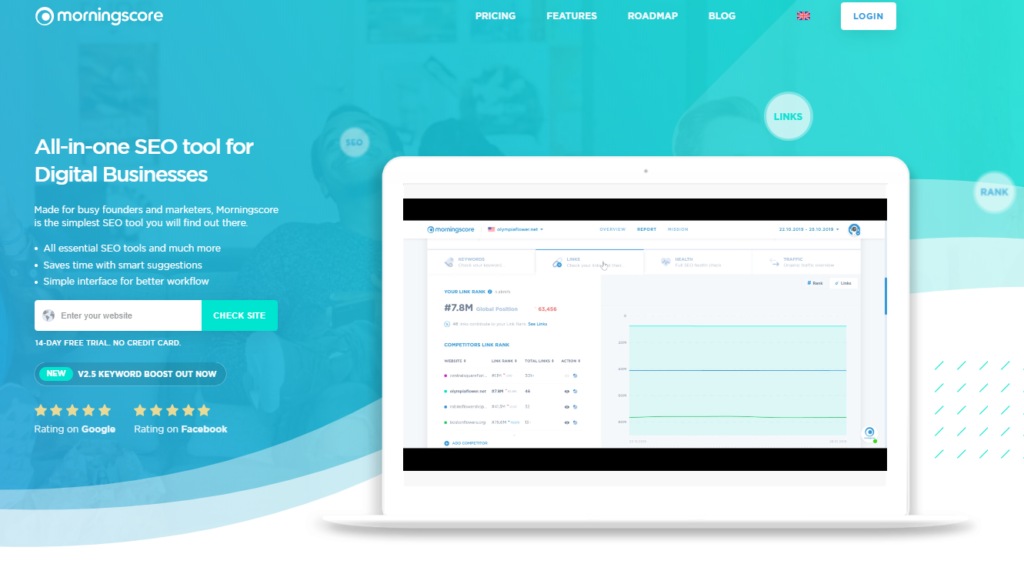 Morningscore: a complete affordable tool for your SEO
In our test, we gave Morningscore a score of 8.5/10. This is one of the three SEO tools we tested with Semrush and Ahrefs. There are many SEO tools on the market today and it is necessary to find the one that will suit you, a tool adapted to your needs. Morningscore is aimed at webmasters new to the SEO world. Indeed, the main strength of MorningScore is that it is very comprehensive. Indeed, you will be able to use the following features:
track your keywords
analyze your competitors' SEO performance
search for keywords
analyze the backlinks of your site and those of your competitors
estimate your competitors' organic traffic
These are the main features of Morningscore. Keyword tracking is crucial in an SEO strategy. It allows you to observe the results of your SEO actions (backlinks constructions, semantic optimizations, internal mesh) every day by allowing you to follow the positions of keywords (increase or decrease).
You will also be able to analyze the performance of your competitors in order to know the leaders in your niche. This will then allow you to analyze their strategy to know what you need to implement to improve your SEO. Morningscore allows you to know the positions of your competitors' keywords, in order to know what they are aiming to generate money.
In addition, like Semrush or Ahrefs, MorningScore allows you to search for keywords. This will allow you to know the monthly search volume of the keywords you need to target. You will also be able to know the difficulty of positioning yourself on each of the keywords.
Finally, you will be able to "spy" on your competitors' backlinks to find out their visibility strategy. Creating the backlinks they have obtained will allow you to improve your organic positions.
The advantages and disadvantages of Morningscore
As we said earlier, MorningScore is a complete SEO tool. It offers complete functionalities for your SEO offsite strategy. In addition, it is offered at an affordable price (count 44€/month for the basic offer). On the disadvantage side, the basic offer is somewhat limited for "intensive" use. You are limited to 100 keywords tracked/month, which is not a lot. If for example you are an SEO agency, you will need to take a higher subscription offer (to track for example 2000 keywords).
Morning Score promo code: how to use it ?
To use our promotional offer, do the following:
Go to morningscore.io
Click on "Pricing"
Click on "14 days trial"
Enter the url of your website
Choose the geolocation of your site
Enter your e-mail
On the dashboard, click on "Upgrade
Choose your subscription offer
Enter your promotional code in the field
Enjoy the 15% discount!