SEOpress discount code 2020
Are you interested in a discount code for SEOpress, the SEO plugin that acts as an alternative to YoastSEO? Don't go any further, we offer you a discount code that will allow you to save money on your license.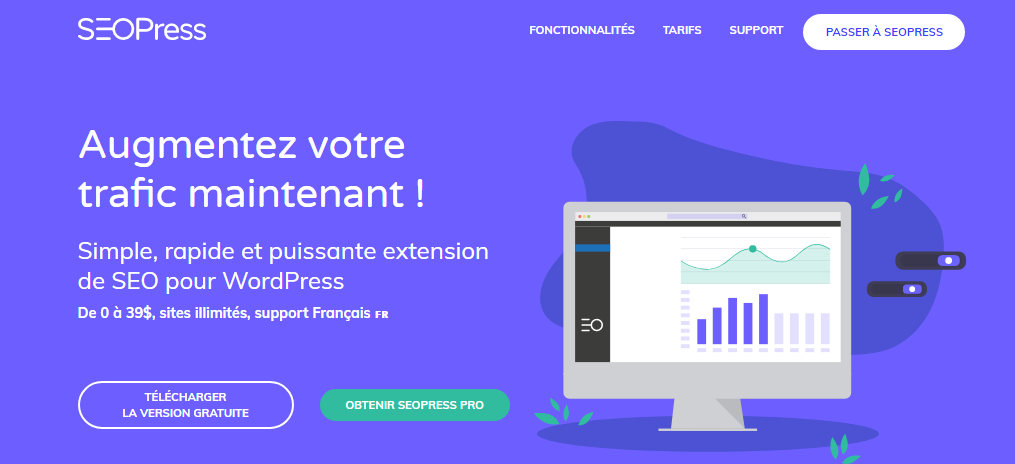 We recently tested SEOpress on our site. It is one of the best alternatives to YoastSEO, one of the best known plugins for WordPress. You can view our test by clicking here. With a single license offered at 39$, SEOpress allows many features related to SEO :
changes to your titles and metas.
HTML/XML Sitemap.
Content analysis.
Integration with Google Analytics and Google Tag Manager.
301 redirect tool.
Managing HTaccess.
Breadcrumbs.
Monitoring the 404.
Rewriting URLs.
and a lot more…
Google favours sites that it can easily understand. It is therefore necessary to pay attention to all your tags on each of the articles you publish. The URL is the most important onsite part in SEO, followed by the title and the Hn (h1, h2, etc…). SEOpress allows everyone (beginners and advanced) to customize all these parameters to appear in good position on Google result pages.
It is also necessary to leave as few errors as possible on your site: this is very badly seen by Google if they are numerous. Finally, the presence of a sitemap allows Google to understand the architecture of your site and indicates all the contents present on your site. This is also very important because your new content will be indexed quickly. SEOpress allows you to manage all this! Offered at only 39$ in unlimited on all your sites, you would be wrong to hold back. Moreover, with this coupon code, we allow you to acquire it even cheaper!

SEOpress discount code : how to use it ?
To use the discount code for SEOpress, follow this process :
Go to SEOpress.org
Click on "Pricing"
Click on "get it now."
Look for the field "do you have a discount code?" and click on it.
Enter the SEOpress discount code!