Veepn coupon 2020
Veepn is a newcomer in the VPN field. Recently tested on our site, it received a score of 8.8/10, which makes it a good VPN. We now offer you a discount code for Veepn to make great savings. Offered from 1.67$/month, Veepn is inexpensive. We allow you to reduce the cost a little more. For that, click on the following link, it's free!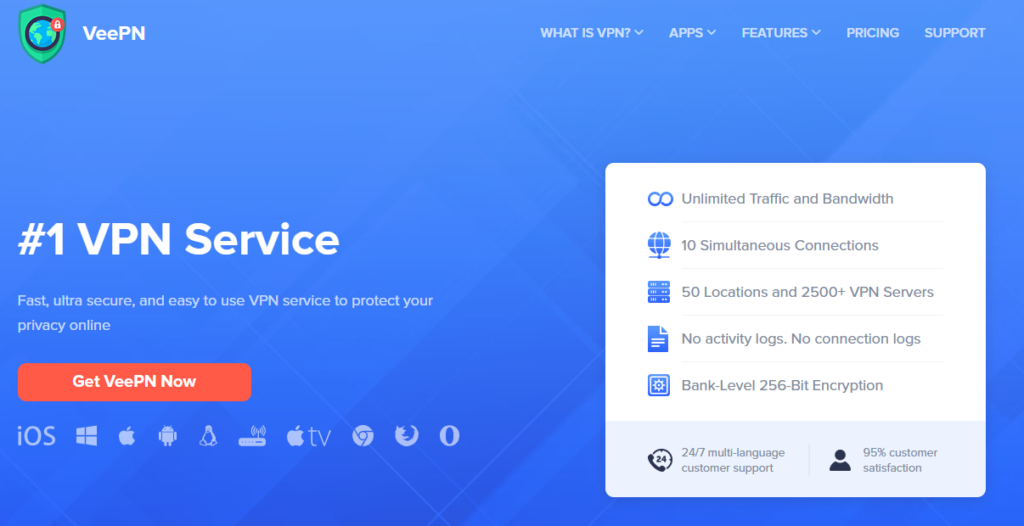 Veepn is a very recent VPN. We are therefore entitled to know the real quality of this VPN. The main strong points that we detected in our test are the following:
up to 10 simultaneous connections to the VPN.
Interesting server coverage (2500 servers in more than 50 countries)
Thus, the strong points are on the "numbers" side. With a single subscription, you will be able to access the service on several of your devices. Or even use the tool with your family. Everyone will be able to access it with a single offer, which is appreciable.
Secondly, the server coverage is very good for a new competitor in the VPN world. A large server coverage is interesting to benefit from an optimal speed of use of your VPN. Wherever you are in the world, you will be able to have an optimal download speed because a server will always be close by.
For comparison, the main market competitors ExpressVPN and NordVPN have respectively 94 countries and 61 countries. Veepn is not so far away!
As for the weak points (because yes, there are!), the subscription offers are not very flexible. Indeed, the most interesting tariff is obtained when subscribing for 5 years. This allows you to take advantage of the famous $1.67/month rate. If you choose a month and you have a specific need, the price rises immediately to 10.99$/month… Less interesting!
Veepn coupon : how to use it
To use the Veepn coupon code, follow the procedure :
Go to veepn.com.
click on "price".
Choose your subscription offer (1 month, 5 years, 1 year).
Look for the field "do you have a coupon ?".
Enter your code.