Agorapulse (Review 2020) – A platform to centralize your presence on social networks
If you are a Community Manager, you know that it is important to have a tool that allows you to centralize the management of all your accounts. Indeed, if you manage the publication on Facebook, Twitter, Instagram, Linkedin accounts, on a daily basis, the management of these accounts can quickly become time-consuming.
Fortunately, social networks management tools exist. This is the case of Hootsuite, which we tested earlier. Today we are interested in Agorapulse, an alternative to Hootsuite that has some undeniable strengths. We tested the tool for a week: here is our opinion on Agorapulse.
Agorapulse : features
Agorapulse has the following features:
Features dedicated to engagement
Publication of your contents
"Listening" to your audience
Collaboration features (shared responsibilities)
Reports on the impact/reach of your content
Here are the details of each of these features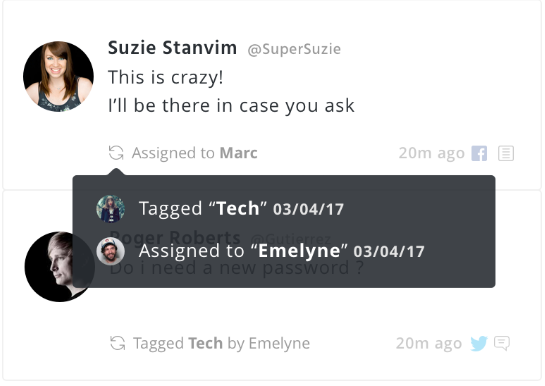 Agorapulse: managing your community's engagement
This is the first feature of Agorapulse: manage comments and conversations received on your accounts. The tool is in the form of a "mailbox" on which you will be notified of the latest comments on your facebook/instagram ads, as well as messages received from your followers. Agorapulse is connected to the Facebook API and allows you to view all comments received in chronological order, so you don't miss any (there's nothing worse than leaving a comment unanswered, but you already know that!)
The tool also allows you to moderate incoming messages. For example, if you receive automated messages, they may be automatically tagged as "spam". You can define the moderation rules you would like to use.
You will also be able to delegate messages to your team members and view everyone's actions live.
(Available for Twitter / Facebook / Instagram)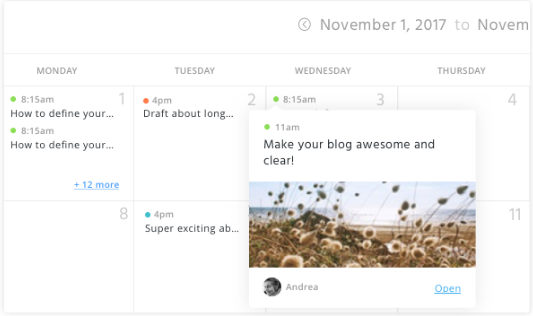 Publish your content with Agorapulse
Agorapulse's second "flagship" feature: publishing your content from the platform. Similar to Hootsuite, it allows you to create, manage, schedule and publish your content on the following platforms from a single dashboard : Facebook, Twitter, Instagram, Youtube and Google+.
You can then:
Schedule your content from a smartphone or computer: set the date, time, and other parameters (re-publication of content at intervals)
"Recycle" content (not available with Twitter)
Preview previews of your content, tweets (to make sure the image is suitable !)
Classify your contents (tag uses)
Use of possible terms
Editorial calendar
Agorapulse: listen to your audience 👂
Agorapulse makes it possible to monitor conversations and mentions of your brand on social networks. This will allow you to keep an eye (and especially an ear!) on what people have to say about your product. A good way to join the conversation by responding to their feedback.
You will also be able to quickly identify negative comments (bad for your e-reputation) in order to fix them as quickly as possible by solving the problems of the most vindictive customers!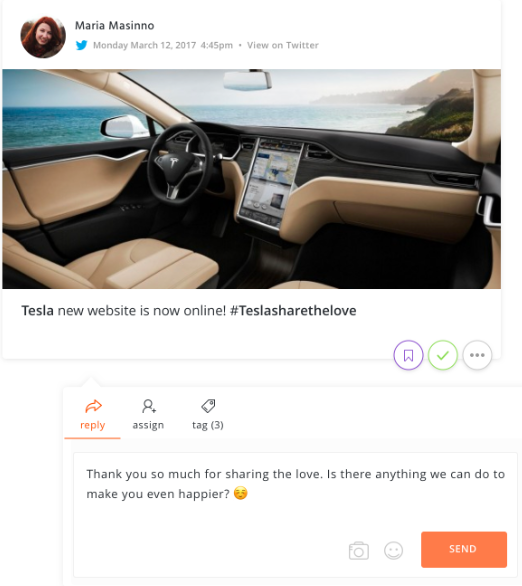 Easy collaboration with Agorapulse
If you work in a Social Media agency and have many colleagues in your team, you know that it is sometimes essential to have a tool that is easy to use simultaneously. Agorapulse has the advantage of allowing you to collaborate on the tool at the same time, no matter where you are in the world. It is possible to define a role for each of your collaborators (administrator, editor, moderator, read only, etc.).
In addition, it is possible to assign different color codes to your editorial calendar, in order to define a workflow that corresponds to your startup (queue, review, approve, schedule, etc.). On this side, Agorapulse is really designed for collaboration. A big strength compared to other social network management solutions.
Analyze your impact with Reporting
The best way to visualize the impact of your actions is through reporting. The human being is a visual animal! Agorapulse allows you to generate reports (exportable to Powerpoint) allowing you to visualize the ROI of your campaigns in an instant. Growth of your followers, published tweets, commitment, reach, impressions, number of responses…. Everything is there to be able to present your (excellent) KPIs to your customers.
Best of all, Agorapulse allows you to follow your competitors in order to analyze their Social Media strategy. This allows you to compare what they do best (or worst!) so that you can improve again and again. It is thus possible to visualize their number of followers (+ growth) as well as their number of posts, and interactions.
Agorapulse: our opinion on this SMO tool – essential and easy to use !
If you are a community manager looking for the software that will save you time in your daily account management, Agorapulse is undoubtedly the tool you need. Very easy to learn, the tool allows you to manage your Social Media strategy from A to Z, from content creation to publication, including interactions with your audience. The tool is optimized "collaboration" which is a real plus if you work in a Social Media agency with many employees.
Offered from 39€/month, the tool is an essential tool that we recommend with your eyes closed!
Agorapulse : offers and prices
Agorapulse offers 4 offers, from consultants to large companies. The main difference for each one is the number of profiles that can be managed, and the number of users on the Agorapulse account. The annual subscription allows a 35% saving. In addition, you can visit this page to benefit from the latest agorapulse coupon available. :
Small offer: 3 profiles, 1 user – €39/month
Medium Offer: 10 profiles, 3 users – €79/month
Wide offer: 25 profiles, 6 users – €159/month
Enterprise offer: 40 profiles, 12 users – €239/month